Storm
December 2, 2009
Sparking to life, lightning fills the Night's sky,
Silent and fierce. The earth trembles at Nature's might,
Flashing between clouds of grey with dangerous delight,
Striking with speed and light before the Storm's eye.

Cold, deep water rises,
While rain pelts harshly, small stinging spears.
The thunderous clouds violently cheers,
Arrogant and loud, while the earth it curses.

Moaning and Whistling, the wind shrieks its fury.
The scent of battle foretells death and destruction.
Rebellious forces lash out in pure defiance,
Leaving rivers of earthly blood flowing into the salty sea.
Broken and weak, its landscapes left in ruin,
The Storm's vengeance is complete and all is left ghostly silent.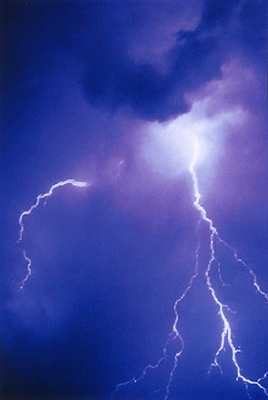 © Steve A., Goodyear, AZ