Looking Back at Contra (2010)
December 14, 2020
Vampire Weekend's 2010 sophomore album Contra is an astonishingly bright, resoundingly reminiscent follow up to their critically acclaimed 2007 Afro/indie-rock album, Vampire Weekend. The indie rock band replaces their smooth guitars with glowing synth keys and bongos with panning live kits, giving Contra a whole new feel. Certainly not shying away from the experimental tendencies of the band's first album, Contra instead sheds a whole new light on them. The exceptional production by band member and producer Rostam Batmanglij feels so immediate and surrounding in every track on this record. As Ezra Koenig's prose-like lyrics pan from ear to ear accompanied by an array of warm, bright synths and drums that underlay his words, the listener is placed directly into the summer's day from Holiday or the campus from Diplomat's Son.

Horchata kicks off the album, opening with the lines "In December, drinking Horchata.." and a xylophone that follows the melody of Koenig's voice. African drums ringing out with voices and synth make a smooth transition into the album's musical themes. Without completely distancing from the Afro-rock instrumentals of the first album, Contra gives us brand new sounds whilst reminiscing on a winter's day. "Here comes the feeling you thought you'd forgotten"

The next track, White Sky is a pulsing rush of hi-hats and simplistic synths. Koenig's absorbing vocal run serves as a chorus, while multiple drums and harmonic melodies play in both ears. The song is an observation, a panoramic view of Manhattan that lingers on street corners and shop windows without approaching them. Simplistic descriptions of the surroundings create an observable yet untouchable setting. The singer only imagines what may be inside, as may we.

Holiday, one of the more commercially successful tracks on the album, brings us out of the winter from Horchata and White Sky, and into a spontaneous summertime trip. It's driven by a neon pink guitar, and throbbing drums that are the soundtrack to Koenig's self-made holiday. He sings about republics on the beach, vegetarians, and most importantly, driving away from fear. Koenig needs a vacation, a break, a breath from his fears, and he isn't going to wait for a holiday. He's got wheels, cutter spray, and a healthy sense of worth. Why wait?

As the most experimentally fresh track on the record, California English is a standout to many who hear it for the first time. It was the experience of hearing this song for the first time that drew the musician Clario, who now works with Rostam Batmanglij, to the band. Vocally, there's not much to compare it to. Koenig's pattering voice bounces up and down as he sings about summer love and disconnected light switches. I never tire of his lyrics- they feel like literature put to music.

Taxi Cab is the hesitant climax of Contra, a memory of uncertainty and car rides. One can feel the tension rising with the high piano melodies and questioning lyrics, the swelling strings and echoing drums. Something once sure is now suddenly lost. "How the future was supposed to be", now falls away. We are left in the taxi cab with only the pulsing strings.

A hopeful, quivering guitar returns as Koenig cries out during the epiphany come alive: Run. Realizing all that surrounding him is dry and toil, he sings "We mostly work to live, until we live to work". It seems a hopeless path until Koenig sees he can escape- the guitar changes to the pulsing synth as he realizes he can run. Trumpets ring out as a declaration of freedom from a world of work and money. All Koenig needs is "you, and a little bit of radio".

Nearby riffs and familial rambles- Contra's seventh track Cousins is a colorful car ride through cultural interest and youthful risks. The curious, fast-paced rhythm matches the pace of the track and the odd lyrics about art life. It transitions sharply into the next track, Giving Up The Gun, which is a contrasting atmosphere of bells, staccato strings, and aging.

The next track on Contra is Diplomat's Son: a ballad of uncertainty, brassy synth, regret, high strings, and piano. Koenig sings nervously about acting on impulsive feelings. His tone of urgency feels immediate, and it's not until the chorus that we realize it's reminiscent.

The tenth and final track on Contra is defined by its warmth- the atmospheric pad and soft piano allow Ezra Koenig's beautiful melody to ring out harmonically on I Think Ur A Contra. He sings wistfully about a moment of perfection, a love that once felt infinite now lost to a fateful choice that led them apart.

Contra has never been my favorite Vampire Weekend album, but as I dive deeper into my favorite indie-rock band's discography, it begins to resonate with me more as the colorful, wonderful, synth-filled, snapshot of a record it is. As a fitting sequel to the band's successful first record, it draws from the best parts of it (African roots, prosaic lyrics, prep school themes), and brings a new flare to the studio (bright synthesizers and consistent live drum kits) which results in Vampire Weekend's radiant, colorful sophomore effort.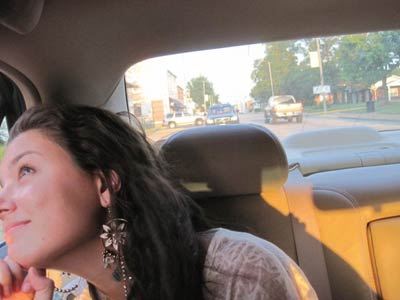 © Rachel N., Ballwin, MO