Alfred University Creative Writing Camp in Alfred, New York
July 17, 2012
In the little traveling I have done in my lifetime, I have discovered that my comfortableness in any location is closely related to how long I spend in the shower. Like any new place I go, I found myself rushing through showering on my first night at Alfred University. However, as the week progressed, showers became indulgent as I let warm water waterfall over fond memories of class and keyboard-tapping at the writing lab. While I considered never leaving the shower on the last night of the institute, I remembered my roommate waiting back in our dorm, a friend I dearly wish had returned to Binghamton with me.
Being a public school student whose high school is very limited for pursuing my writing passion, Alfred University's Creative Writing Institute was an engaging, affordable way to extend my knowledge. Classes were relaxed, though not lazy.
While the professors did seem unprepared at times, we engaged in a variety of valuable exercises to boost creativity which included drawing a childhood memory map and writing American sentences (an exercise invented by Allen Ginsberg). Well-organized recreational activities were offered at night as well as visits to the local coffee house.
While the camp is relatively short, students create connections and friends that will endure long past the five days on campus.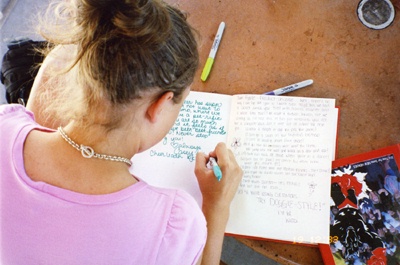 © Jessica S., Pheonix, AZ