Modification, necessary for Examination
August 4, 2010
On the day of CAST (College Scholastic Ability Test), there is always news aired about the number of students who suicide during and after the exam. So many students lose their hope and lives ought to their scores that are not high enough to gratify themselves. What causes this tragic incident?


Education is prioritized to succeed in South Korea. Even though real school is not the place teaching students how to acquire better grades, the primary aim of Korean schools is to equip students with knowledge to actualize their dreams, not to grow mature human beings. Schools conduct tests to rank students in the order of merit, under the guise of fostering students' academic motives and check their progress. However, success should not be measured only by the scores from multiple-choices or fill-in-the-blank questions. Due to the prevalent credentialism, the real purpose of education and testing has been faded away and distorted.


The main negative aspect of testing is that it deters students from accumulating long-term knowledge or being creative. The only reason high school students learn and cram for exam is to ace the test to get accepted by prestige universities. Therefore, as soon as students step out of the classroom after test, they dump all the information as it is not useful any more. Also, there is no incentive for students to think in different and broad perspective. All Korean students do is memorizing all the information mechanically and learning to do better rough-guessing when they do not come up with clear answers. There is no room for scrutinizing the world around oneself or deeming the reason for existence and one's ego and relationship, which is much more important to individuals who will be the future human resources. What a waste of time and energy to stick in the counterproductive education system!


Moreover, testing widens the gap between the haves and the have-nots in the end. Current testing method hinders under-average students from actively participating in the class, leading them to left behind. This will eventually cause the vicious cycle of poverty. However, testing is not a reliable measure of intelligence. How well someone can memorize notes is not an indicator of cleverness. Intelligence has more to do with comprehending and analyzing materials, accompanying curiosity that lets students want to learn more and possessing ability to think critically. This implies that examination interferes with students' potentiality by stigmatizing students as idiots without rationale. Due to such a system, competition is getting fiercer as time passes by and people without self-esteem are increasing in astronomical rate, ensuing to the increased the number of unsatisfactory people and their suicide rate.


In my opinion, there should be a renovation of either the social atmosphere about academic ability and diploma or examination system. Students should be treated as a human being with warm-heart and emotion, not as a studying machine. I think <Dead Poets Society> shows the ideal atmosphere of real classroom and studying method, debating and expressing their own opinion. Also, test should measure the capability of critical thinking and creative ideas, not the memorizing skills. For example, CSAT appraises twelve years efforts at once. It is not only impartial but inefficient. On the other hand, in France, every single test includes oral interview to express their own opinion about the subject. Through articulating their points, they can have in-depth knowledge, as they are abetted to research and brood on it. Another example is my school, Suwon Academy of World Languages, which implemented several short essays tests in the mid-terms and finals. Also, there are some classes do not have written exams. These classes are graded by the performance tests which assess the participation during the whole semester. Conducting those systems allows students to lessen stress as they have more than one opportunity to make up the mistakes or figure out the potential. Also, what students learn in the classes can be applied to their day-to-day lives. This is due to the fact that by writing out their knowledge or speaking out their opinion, students are able to learn to express themselves, which is a crucial skill in the modern society that prioritize the PR skills.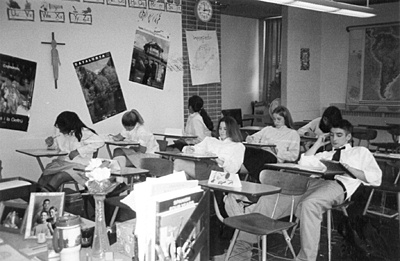 © Fox V., Whitesboro, VT