To Understand
January 19, 2021
Names. With a black pen that's almost dry, I write down my brother's favorite proper nouns. Sometimes it's "Emely, Melanie, Mommy, Daddy, Carlos." Other times it's "Melanie, Daddy, Mommy, Carlos, Emely." I depend on his voice, garbled as it may be, to tell me the order. Several pages in, Carlos takes my wrist and rests my palm delicately on his small tablet screen. He wants me to look. I do as much and find his request typed within the search bar:

"hannahmontana."

Even as my hand grows weary and stained with ink, Carlos's joyful laughter pushes me on. It's a given—that warm feeling in my chest—when I excite him in such an obvious way. Spark that need in him to run about, jumping up and down, humming a cheery tune to himself. My brother speeds to the kitchen once I mark a page with "H," leaving me alone with my thoughts for a moment. I think: what can I do to make him even happier?

Hannah Montana...?

Of course! Carlos loves the Disney Channel.

By the time he skips back to the living room and returns to where I'm sitting, I've added "Hannah Montana," "Bunk'd," "Just Roll With It," "Andi Mack," "Sonny With a Chance," "Sydney to the Max," "Shake it Up," "Wizards of Waverly Place," and so on and so forth. His favorite family sitcoms, all those I've managed to commit to memory, lay smooshed together on wide-ruled paper. A single peek at my handiwork, his head leaning under my chin and edging towards my lap, leaves my brother in a state of utter glee. When he hugs me and pecks a kiss on my cheek, it makes those nights staying up until twelve worth it. All those late afternoons coming home from school, retrieving the remote from him, typing up the letters he recites to me, and selecting the correct show. Watching hours upon hours of episode reruns and theme songs with him (it has to be from the DVR; YouTube isn't the same) until he finally succumbs to sleep.

It isn't immediately apparent when my brother feels the toll of the late hour. His eyes don't droop, and he never yawns. But I know Carlos wants to rest once he sprints to my mother's bedroom, dead tablet and used notebook at hand. While everyone else is sound asleep, I close the bedroom door. Next, shut off the lights in the kitchen and dining room. Lastly and most crucially, I unlock the padlock in between the chain on the front entrance.

It wasn't always there—that door chain wrapped around a shackle. Not when we first moved in. A slight improvement from our previous rented floor: a basement and backyard that we don't have to share, and a small second bathroom that boosts timeliness on busy mornings. The downside? It was a change and a dramatic one at that. And Carlos doesn't like change. As he did on our first day, he cried on our second, third, and fourth.

On our seventh, my brother ran.

I remember a beat of uncertainty. There was a sense of overwhelming anxiety, the kind that left my body stuck in place. Yet my mind buzzed with determination and desperate memories. I knew Carlos tended to hide where the boilers were, so I ran downstairs and checked the basement. I knew he liked traipsing outdoors, so I jumped over furniture and decorative obstacles to gain access to the backyard. And when the police finally arrived requesting a photo, I knew where to look: his tablet's gallery; my brother loves taking pictures of himself doing smirks and scowls.

In retrospect, it was pretty obvious where Carlos would be: our old two-family home with the concrete front yard. Our old homeowner held Carlos in her watch until officers showed, allowing him to laugh and bounce around while keeping him a distance away from passing vehicles. She knew him, his condition and mannerisms, and acted accordingly. Setting the padlock aside and opening my dormant sister's door, I remember that this was what enabled my brother's return home safe and sound. To this day, it allows me to translate "good lu chuvvy" to "Good Luck Charlie." Understand that by "bray," my brother means for me to "braid" his hair like his dolls. Don't be too loud. Don't move my things. And please don't touch me until I want you to, in which case I'll jump into your arms and kiss the side of your face.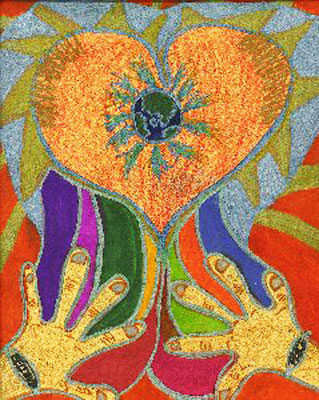 © Amanda P., Clermont, FL