Why Fashion?
November 7, 2009
Some people can pinpoint the moment they realized they wanted to be an artist or a doctor or a teacher, but for me, there was never one single moment when I knew I wanted to go to school for fashion design. It's something that's been accumulating over many years of loving art, clothes, and color. I've watched my mom make a living out of art as a graphic designer and I guess you could say I'm following in her footsteps somewhat, maybe next to her footsteps.

While I can't pick the moment I knew I loved fashion design I can get a little closer to the moment I realized I loved New York City and knew it was where I wanted to go to school. Since freshman year I've been telling people I'm going to go to school in New York. I visited the city for the first time in eighth grade on a class trip. I was interested in fashion at this time, but still had no idea the way New York revolved around it. Needless to say I fell in love with the city and had my mind set on spending a good deal of time there.

When I got to high school I took art classes for all of my electives and had already taken a small fashion course in middle school. I began looking at colleges and I knew that New York City would have the best design schools; the trouble was deciding which one was the best fit for me. I found FIT to be a good fit for me because it throws you into your area of interest immediately and immerses you in the culture of New York City, two things I have great passion for. I feel like I will benefit from FIT because I know the fashion design program is rigorous and probably stressful at times, but that is one of the things I love about the fashion industry. It's constantly moving, changing and looking ahead. There's no time to slow down and think about anything but what's coming next. I need something that is going to change and evolve with the times and with me as a person and I know fashion design does that and FIT will help me get there.

Not only is fashion an ever changing industry, it is an expressive industry. In situations where it's difficult to get your words out right, the way you present yourself is a form of speaking. I like fashion and art in general because I can use it to reveal things about myself to people who don't know me that well and to express my opinions or feelings. People who say they don't care about fashion or clothes are still expressing themselves through it whether or not they do it knowingly and that is another reason I love it. It's a subconscious form of expression and it helps to understand and get to know a person.

Once I got settled in high school and got more comfortable in my art classes I moved my focus towards learning more about design. My school offers a lot of art classes but unfortunately fashion design is not in the curriculum so I had to search for the experiences on my own. The summer after my freshman year I took a two week class at Massachusetts College of Art and Design in Boston. I went in at 8 each morning and learned how to thread a bobbin, draw a figure with fashion proportions and even constructed my first garment. There were ups and downs to this program. I had to create my own pattern from scratch and the instructor never once went over how to do that. Luckily for me, my mom's friend is a seamstress who went to design school herself. She stayed up with us until 5 am that day teaching me and helping me. Now, I take private lessons with the same woman and my own sewing has improved drastically in just a short time. That experience didn't break me down; in fact it made me want more. Over the past two summers I've attended pre-college programs focused on fashion design, one at Pratt Institute and one at Marist College. I would say those pre-college programs have been the best experiences of my life thus far. They helped me realize this was what I need to be doing, and I don't want to give up until I am doing it.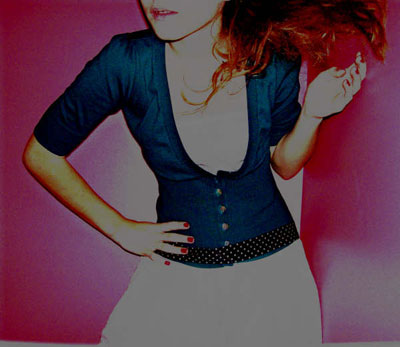 © Jenna V., Hamilton, ON, Canada