Obstacles
May 4, 2012
Throughout one's life obstacles tend to get in the way in the form of disguises that aren't always pretty. My story is a common one that countless people have faced.
Approximately three years ago when I was a freshmen in high school, in my English class we always had frequent assignments of writing an essay and handing it in or writing a poem and presenting it to the class. My phobia of public speaking always forced me to pick the essay. I never loved the idea of writing an essay but if it kept me in my seat where I was "safe" from standing up in front of the class, then I will obligingly embrace it. Only a couple would actually do the poem and obviously they weren't the ones that were afraid of talking in front of people.
Couple of times I actually pondered upon the idea of getting up just once so I could see what it was like but I pushed that thought away from mind thinking about all the possible things that could go wrong, for example, I could have a panic attack or I could stutter upon my words making a complete fool of myself. When my brave peers would go up I would take it as my job to study to see exactly where they get the courage to do this and I always noticed they always had it, it just didn't appear out of nowhere, they grew up with it. when I would do presentations like way back in elementary school, then it was nothing for me because I didn't know there were such things as messing up but as soon as I hit like the eight grade I would see kids laughing at other kids who messed up and that's where my fear of going up in front of the class came from.
One magical day I dared the impossible, this time I didn't write an essay, I wrote a poem. I gathered up my courage, took a final look around and stood up to enter the battlefield. In my head I had it all planned, I would look at my paper the whole time, be prone to those comments that will be coming. Fortunately that's is exactly what happened, when I was half way through the poem some kid I wasn't very fond of started laughing and I looked up and I discovered he wasn't laughing at me but was chatting with one of his friends. I breathed a sigh of relief and continued my poem.
From that day on I have definitely learned a lot, for example, its human nature to judge and you can't stop somebody else's thoughts, you just have to learn to adapt. That day was a risk for me because I could have done several things wrong and it would make a scar on past that I would always remember the day as a reminder to never present things and my fear would never leave.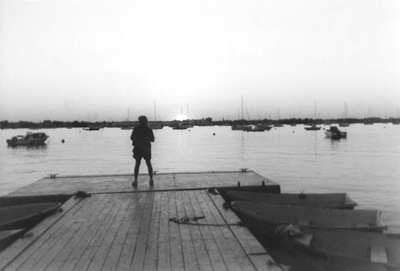 © Lindsey D., Marblehead, MA