Engineering Essays
November 10, 2012
As a child, I always wanted to know how and why things were, but adults, fed up with constant interrogations, often brushed me off by suggesting that I ask someone else or look up the answer myself. This was before I had access to the Internet, so I turned to books to tell me the meaning of new words or what the Earth looks like from space. I remember one day after school in fifth grade, I curled up on the floor with a dictionary, intent to learn every word in it. I don't believe I ever got past the c's, but this was only the beginning of my passion for reading, and eventually writing.

When I turned eight, I decided I was finally old enough to pursue my dream of becoming an author. Inspired by my stuffed animals, I spent hours writing and illustrating a plotless sixty-page "novel" about a cat, a dog, and a bird that embarked on a "grand endvencher." At the time, convinced that it would soon be published and make me famous, the only future I could see for myself was that of a successful writer.

Unfortunately, my parents crushed that dream when they kindly suggested that I wait until I was a little older before trying to publish something. I took their advice and disheartened with reading, turned to other ways to learn what algebra is and why I can't feel myself careening through space with the rest of Earth's inhabitants. The hours I previously spent reading I now spent outside – I had resolved to learn everything through the power of my own observations. But there's only so much one can figure out through pure speculation – I inevitably turned back to questioning adults about whether we all perceive colors the same or about the causes of the forces I experienced while swinging at the playground. My grandparents began calling me their "little scientist," and I took pride in the term immediately. Being an author would be cool, but being a scientist sounded even cooler.

Six years later and entering high school, I no longer had dreams of becoming an author, but instead of becoming a scientist, although I still didn't know what scientists actually do. My sophomore year of high school, I stumbled across Advanced Competitive Science (ACS), a class teaching the introductory aspects of engineering. (Until that point, I had never even heard of engineering, which I only suspected meant a career highly involved with driving trains.) I enjoyed the hands-on experience and signed up for level two the next year, already thinking that I would enjoy becoming an engineer some day. On a whim, I also signed up for an AP Language and Composition class that caught my interest – I had never completely forgotten how much I had wanted to become an author while growing up.

The next year, I found myself in an odd situation because although I still loved everything about engineering: the visualization, the problem solving, the math, I was spending more time at night thinking about essays for my AP Comp class, not thinking about my search and rescue robot. Every day, I waited all morning for AP Comp to begin, and after it ended, I waited for the day to end so I could go home and revise my essays. Writing became an obsession, and I was surprised that I didn't mind that.

I found writing to be a lot like engineering, contrary to what any staunch writer or engineer might testify: there is never a right answer, creativity is a must, don't waste words/materials, and a truly good finished product requires many hours of work.

Despite my discovery, I quickly learned that there really isn't a good career for an engineer who loves to write or a writer who loves to engineer. With limited space in my schedule this year, I made the decision to pursue engineering instead of journalism for my elective space, but I'm still conflicted: should I build things with my words or with my hands? Maybe I'll have to compromise – the world could use some more essays about writers driving trains.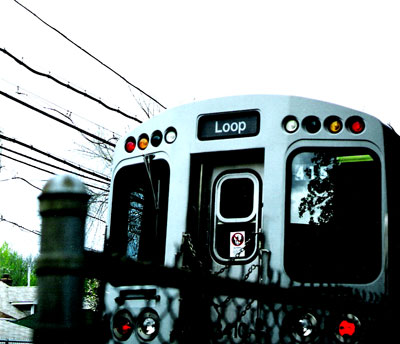 © Alyssa V., Chicago, IL