Limitless: A Memoir About Theater
November 20, 2013
It was the end of scene two, and I had been in the hair-and-makeup lounge for the past thirty minutes. Now, I was standing at the door waiting to begin my scene. We had been rehearsing for months. Although we had gone over the play a total of six times that day, only now did my heart attempt to escape from my body, pounding frantically and sending ripples of trembles through my body in every direction. It was fear, it was anticipation, and as soon as the door opened, it was gone.

In those few steps from the door to the aisle between the audience, I had become Jacob Marley of Charles Dickens' famous A Christmas Carol. As I took that ghostly walk down the aisle, the rattle of the chains wrapped around my body drew all eyes to me. Under any other circumstances, I would have dropped the chains and ran all the way home, but this was different. I was no longer Lundyn; I was Jacob Marley there to warn Scrooge of his future.

It was all just a practical joke until that moment. I had half-heartedly auditioned for the role of Ebenezer Scrooge and ended up being Jacob Marley. I attended every rehearsal and followed all the directors' instructions, but none of it really struck me until that moment. It was terrifying, to have the doors open and have all eyes on me. But it was amazing to become an individual I was not and cherish the opportunity and moment. I was Jacob Marley, and I commanded the audience's attention with every chain-rattling step I took. Prior to that moment, I had always been that quiet girl who was completely satisfied being trapped in her own miniscule and confined bubble of silence. Now, not only did I desire the attention, but I also fully embraced it.

It was an everlasting moment that only the beauty of nature can ever define. As I spoke the words I had rehearsed countless times, I delivered them with precise diction and liberated them from my heart and soul. Appreciating this very moment, I observed as the audience glazed at me with the static eyes of a hawk. Unphased by my initial anxiety, the moment appeared infinite. The moment appeared in slow motion, and I wanted it to last. A rush of adrenaline provided me with renewed energy, diminishing my anxiety. I had felt limitlessly powerful, but no words can ever describe the wonderful feeling I experienced. In that very moment, although my character had been wrapped up in chains, I had come to realization that I was completely unrestrained.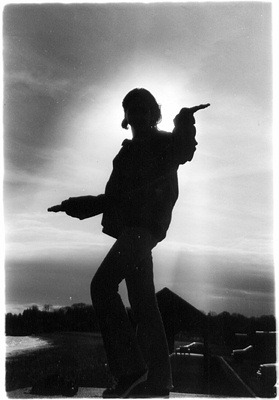 © Lena K., Marblehead, MA