Checkers and Candy Bars
November 21, 2014
Call me crazy, but I like civilization. Some people like the countryside. And I get that. That's fine. They like corn and manure.

Personally, I crave a different setting for the novel that is to become my life.

I don't want somewhere I'm simply content. I am happy in a place where I can be constantly challenged and moved by the many inspiring things one can find in a city. The art, the food, the people.
I want instability. I want friction and tension. I want the hustle and bustle, the loud sounds, unexpected atmosphere. Give me the diversity and the culture and the excitement.

The city; now that's where it's at.

Originally from Staten Island, my family moved to Delaware when I was at the ripe age of three. At this age it may not seem like I had much to be attached to. But what else could explain the feeling of absolute awe I am absorbed by every time we visit?

Many people would turn their head at the idea of the smells of a city. But that's one of the best parts. Maybe it's the absence of it in my daily life and knowing that it's where I come from that creates my appreciation. I drift back into the old park down the street from my old house whenever I catch the scent of asphalt after rain on a hot day. When we would visit for Fourth of July celebrations I would beg my mother to take me down to the park to play in the sprinkler that came on on sweltering summer days. She wouldn't take me in for fear of the older kids that hung out in there, so this naturally created a desire within my heart.

Every day I drive by acres upon acres of farmland. I view it as wasted space. I understand its purpose, obviously we need the food, but that doesn't mean the idea provides me with a sense of joy. In the space that a single corn field takes up, you could fit numerous blocks. Sure it may get crowded. But that's the beauty of it. These stores that would line the blocks, they're authentic Hispanic restaurants, they're infamous art galleries, they're mom and pop markets that your grandparents tell you stories about. You fit so many subcultures into one big culture that city life becomes a culture of its own. Every day you can experience something new at your leisure. Walking down the block you could watch two old guys squabbling over a lost match of checkers, you could hear the sounds of bells in the soft Indian music drifting from the old Indian man's shop, the one who always booms with laughter and lets you get a candy bar for free, you could taste the air that takes on a positive reflection because of the happy moments that reside in its presence.

The city life is for the observant and appreciative.

To borrow a theory from The Great Gatsby, much like a large party, the city is so intimate. Small towns; you don't have any privacy. In the city, you may walk the streets for a week before you pass that same person twice. It keeps you on your toes, alert. And I like that. I don't want to grow lazy and accustomed to an environment. I want to constantly be amazed and proud to be able to handle such a fast paced and educational life.

These past fourteen years have been a good experience; to be in this environment for a while. I can say I've tried it. But the place in which I'm most satisfied, a place to which I am beyond ready to return, is a place in which I can anticipate nothing and learn everything.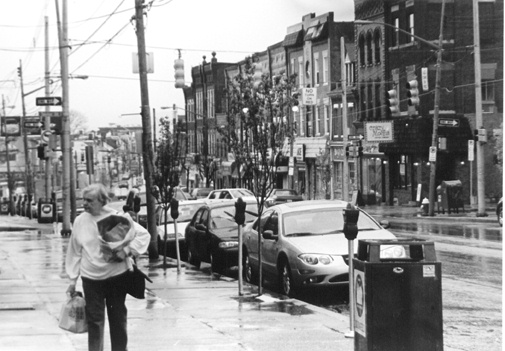 © Sydney R., Pittsburgh, PA