Doors
April 24, 2015
My family stopped wondering about my closed bedroom door a long time ago. Days are spent socializing and working, participating in activities and mingling with friends and family; nights are meant for writing. Now everyone acknowledges this, so the mystery is gone. The questions, however, remain.
In the past, they would ask, "What are you working on?"
I would give a noncommittal answer, detailed enough to satisfy their curiosity, vague enough to be nothing of real substance, even if they didn't realize that.
A story, a song, an essay. The words held a kind of sparkle in their mystery, and when I refused to offer details of what the story or song or essay was actually about, my family would lose interest, contented with the promise of something great held in those small, common words, and resume their own activities. Because everyone knew that I loved to write. They also knew that I would never allow them to read what I had written.
No one understood why I hid my words, what the point of writing was if I never allowed others to read it. What they didn't understand was that while my usual response of, "it isn't finished," was absolutely true, the real reason I kept my words to myself was because they weren't ready to be seen yet.
Consciously, I was afraid of exploiting something so personal, letting it out into the world to be judged and seen with eyes far less kind than my own. Subconsciously, I think I realized those stories and drafts were tools. They were never meant to be shiny or perfect. They were meant to aid in my growth. They were practice drafts, perfectly allowed to be horrible, because the next one would be a little less horrible. And progress is progress no matter how small.
I was always proud of my stories, even if it was obvious they weren't very good. I finished them, and that was an accomplishment. Each story I wrote was a little bolder, a little more honest. I never did anything with them after I finished the first draft; I set them aside and began something new, only looking back every great once and awhile for a chuckle or a nice reminder that I was, in fact, improving.
When I was sixteen, something strange happened. I finished a story—no, a novel—and I felt that familiar sense of pride that always accompanied finishing, but I also felt something else. Something unresolved.
This story I didn't set aside, discard, or forget.
This story I revised. This story I edited and reworked and stayed up countless nights trying to improve and perfect.
This story I let someone read.
It was the beginning, because everything that came after was set free into the world, read by my family and strangers alike. It marked the end of my hiding, of keeping my voice and opinions to myself.
The end of this story was my beginning.
Because now, I leave the door open.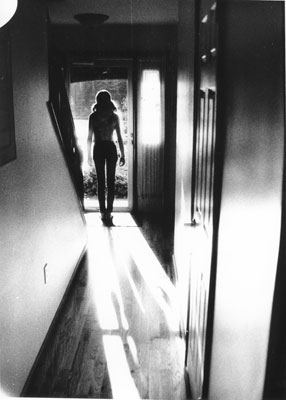 © Mike V., Morgantown, PA