Guardian Angel
October 18, 2018
My eyelids slowly flicker open, and I blink the sleep from my eyes, looking around the room in disappointment. So it wasn't just a dream, I'm still in the hospital room. The same room I have been in for months. I feel something soft in my left hand, and look over to see that Spencer is sitting beside my bed with his hand gripping mine as I slept, and he had nodded off, his head tipped to one side as he snored softly. My dear, sweet Spencer. As if by some sixth sense, he wakes up and gives me a light smile.
"Dylan, you're awake. How are you feeling?" he asks me, his dark brown hair an adorably disheveled mess.
"About the same as the last time you asked," I replied, readjusting to a nearly-sitting position on the bed, pulling the blanket tighter around myself as I shivered. Noticing this, Spencer sat beside me on the hospital bed and wrapped his arms around me to warm me up. "I'm not fragile," I mumbled half-heartedly, resting my head on his shoulder.
"I know you're not, Dylan, you're one of the strongest people I know. That doesn't mean I can't warm up my boyfriend, does it? Besides, maybe I just want a reason to snuggle close to you," Spencer whispered, his warm breath gently stirring my hair. I turned my head to look up into his shining eyes, suddenly feeling a strong urge to kiss him, and maybe a little more than that. I place my hand at the base of his neck and nudge his face closer to mine, and he smirks, knowing what I want. He bows his head so that our lips can meet, as warm and soft as honey. The kiss only lasted a few heartbeats before I leaned back to gaze at Spencer's face, and his brow furrowed. "Hey, not so fast," he said to me, a smile tugging at his lips. I stretch my neck out to press my lips to his, and I was surprised by the fierceness in Spencer's kiss, and the hunger in his eyes strangely pleased me. He wraps his arms tighter around me, pulling me so close that I feel like my ribs will crack. Spencer's lips move along my jawline, and he licks the skin behind my ear, causing me to moan his name softly.
He pauses to look at me for a moment. "You like that, eh?"
I nod sheepishly, feeling heat blossom across my face, as Spencer continues along my neck, making a small bite that both stings and makes me quiver. I'm acutely aware of how close our bodies are, pressed firmly against each other, it'd be so easy to justーmy body is suddenly wracked with a violent case of coughs, forcing Spencer to pull back. He stands up and leans me back against the pillows, straightening my legs until I'm lying again. He stand there looking helpless as my coughing intensifies, and blood dribbles out the corners of my mouth, and I feel myself choking on it. Noticing this, Spencer rolls me onto my right side to allow the blood to drain, and my coughing gradually fades to light wheeze.
"Stay here, I'm going to get you some water," Spencer said, and it sounded as if he were about to cry. As if I could go anywhere. I doubted I could even sit up right now. Spencer left the room, the one thing I cherish in this world leaving me aching, even if he's just leaving for a moment. Several minutes pass in silence, with me lying awkwardly on my side, wiping away the blood on my face and chest. I hear the door to the hospital roomーwhich is now at my back where I can't see itーopen as someone enters the room.
"Spencer, I could really use that water," I croak, holding back another wave of coughs. When Spencer doesn't say anything, I repeat myself. "Spencer?"
The man walks around the bed and crouches down to look me in the eyes. It isn't Spencer. "Dylan O'Leary," he spits, a look of pure hatred on his face.
I try to remember where I might know this man from, but I have no recollection of him. He looks to be in his mid or late twenties, with short dark brown hair and a neatly-trimmed beard, and his sleeves are rolled up to reveal heavily-tattooed forearms. "Do I know you?" I ask uncertainly, slyly reaching for the button that alerts the nurses I need help. The man notices this, and blocks me, glaring down at me.
"You do not know me, and I am sure that Spencer neglected to ever mention me. I'm Travis McCarthy, Spencer's brother."
"Spencer doesn't have a brother, he said so," I replied, not entirely sure what is going on here.
"Of course he would say that," Travis snarled like an animal. He stood up, snatching a pillow from under my head, and rolling me onto my back. "No brother of mine can be with a man," he growled. "Our father did that enough. It's time to say goodbye, Dylan. The world will rejoice with another disgrace to mankind gone." He grinned wickedly and brought the pillow down on my face, attempting to smother me. I tried to scream, but the pillow muffled my voice, transforming it to a bare groan. I struggled, trying to force his hold to loosen, but the disease has drained my strength, reducing me to a feeble young man. I tried to suck hair into my depleted lungs, but none came. My vision began to blur, and darkness encroached on the edges of my sight, and just as I was about to pass out, the pillow was lifted off my face, and I greedily sucked air in. As my vision returned, I noticed that Travis had been pulled off me my a nurse with a mass of red hair piled on top of her head, with a look of anger and defiance glowing in her eyes.
"Don't touch him," she half-snarled and half-roared at Travis.
Just then, Spencer appeared in the doorway, and dropped the cup of water he was holding to the floor in shock. He took in the scene, his eyes narrowing as they stopped on Travis. Travis took one look at him and charged him, shoving him aside as he rushed out the doorway and away. Spencer turned to chase him, but I caught his attention.
"Spencer, let him go," I coughed. He looked over his shoulder at me and sighed, relenting, coming to sit beside me on the bed, pulling me into his arms and breathing a sigh of relief that I was okay.
"Oh, Dylan," he whispered, "thank goodness you're alive, I thought I would lose you."
"I'm okay," I assured him, as well as myself. "I'm okay."
I looked back at the nurse, but to my astonishment, she was simply… gone. Vanished completely. Had I been imagining it? Or maybeーjust maybeーshe was my guardian angel.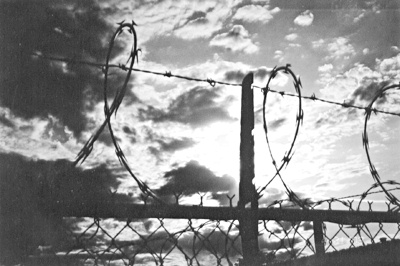 © Jessie W., Wichita Falls, TX