Preview - Terrorist Ties
July 6, 2012
I can remember it vividly.

His perfectly tousled milk-chocolate brown hair with its streaks of gold, red and darker brown waving faintly in the soft wind. His gorgeous gold eyes shadowed with pain and remorse. His slightly cold hands on my shoulders, pushing me away. And watching this news broadcast almost four years later brings up both the hurt, and the wish to know what he meant.

His name is Justin. Justin Granger. I met him in school back when I was fifteen. With his silver eyes, perfect hair and lean, but athletic build, he was the best-looking guy out of all of the teenagers at my high-school. He was lusted for by the majority of the girls at the school; they would spend every single possible moment trying to earn his favour. But no matter what the girls did, they could never convince him to go out with them.
I transferred into the school midway through fall. If there is one thing you need to know about me, it is the fact that I am a serious klutz. First thing I did was bump into a group of girls who were crowding the middle of the hallway on the way to my first class, science.
Hearing the whispers, "What a klutz," I quickly started gathering all of my papers. Hearing the most smooth and lovely voice ever, "Come now. It's not that bad."
A hand appeared next to mine, gathering up my binder with the notes from my previous science classes falling out of it. After I finished gathering up the rest of my things, I looked up to thank who helped me.
And I almost gasped. In front of me was the single hottest guy I had ever seen. But I didn't. I could see the jealous looks all of his admirers were giving me. So instead I just blinked and thanked him. And then he smiled. There really was no way to describe what he looked like when he smiled. It was like seeing the sun after a thousand years of darkness; he almost blinded me with his sheer brilliance.
"I like you. I'm Justin Granger," he held his hand out for me to shake.
I was shocked. Back at my old school, guys would barely glance my way. And here, what looked to be the most popular guy was saying he liked me, while his devotees were whispering and shooting hateful looks my way.
I shook his hand and smiled, "Stella Hart. I like you too."
And that officially became the first day of the best school year of my life. At least until spring. Spring used to be my favourite season, until that day.
Half way through April, Justin came to my house, asking if I could walk with him to the forest. Just past the edge of the he stopped and turned to me, his face full of regret.
"I didn't want it to be like this. For once I thought that maybe I could lead a different life than the one I was being pushed down. For once…but now just being near you puts you in danger."
"Wh-what?"
"I can't be with you. I've been doing things, things I wish I didn't. And things I wish I couldn't."
I shook my head, "Wait. So you're saying that you've been doing…what?"
He sighed, and smiled sadly, "Being with you was nice. But I have to go now."
He turned and started walking away. But then stopped, and turned back towards me. Taking my face in his hands, he kissed me.
It was both the longest and shortest moment of all times, we stood interlocked, until he pulled away.
"I've always wanted to do that." He placed his hands on my shoulders and pushed me away, "If you ever see something that says I'm a bad guy…please remember…I never wanted this."
Justin paused for a moment, letting me see himself in his eyes. Long black hair, dark brown eyes questioning and scared. And then he walked away, fading into the blackness of the trees.
The next day, Justin didn't turn up at school. His house was vacated, with a For Sale signed tacked up in front of it. There were rumours about what had happened; his parents decided to move to Britain, he was abused and ran away, he was kidnapped. I was isolated at school, left on my own. So three years later I left town. A week after I turned eighteen, I packed up and moved into an apartment on the other side of the country. I got a well-paying job at a small company. I tried to forget Justin, but I never could. And then the news program shattered my world.

"Yesterday, a small bomb was set off at a large mall in Toronto, Ontario. The entire center collapsed in on itself, with forty-seven reported dead, one-hundred and thirty-seven injured, and over three hundred more still unaccounted for. Currently there is only one suspect for this attack," A picture flashed on the screen.
I dropped the bowl I was holding. I sank to the floor. I stared at the television set in pure horror.
It was Justin. Older, sadder, but still Justin. The anchor continued with her story, "Justin Granger. Aged nineteen. Seconds before the bomb exploded, he was seen running quickly out of the building, with a 'cold look in his eyes'. Police have set up a search for him. If you have any information that could lead to his capture, please call the free crime-stoppers line."
Justin is a terrorist, he set off a bomb, and he killed people. I was just about to condemn him more when Justin's last words to me flashed through my head, "If you ever see anything that says I'm a bad guy…please remember…I never wanted this."
I stood up and started cleaning up the shards of the bowl I dropped. After I was finished, I said out loud to the room, "Well. That settles it." I'm going to find Justin, and I'm going to figure out what happened.
Justin always said I was stubborn, and now I'm going to show him just how stubborn I can be.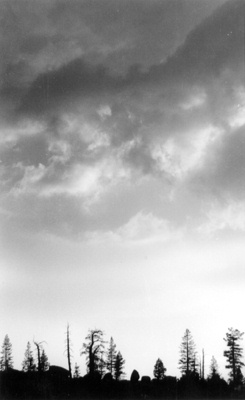 © Steve S., Marblehead, MA