(Title not determined)
January 16, 2015
Clint opened his eyes. A blurry vision is splotched with colors of grey. Once he focuses, he looks up, blankly, to a dark sky. Smoke rising from ashes of burning buildings. Some fires still flicker amongst the wooden ruins. Still dazed Clint closes his amber eyes again for a moment, then sits up. He stares at the spot covered ground with his dusty palms facing up to him. Clint looks around, mindlessly processing his surroundings. Burnt wooden frames stand delicately on its side over the piles of broken houses. Smoke still rises from the blackened wood and covers the sky with grim darkness. Clint couldn't recall what had happened. He knew his name was Clint Weathers, and he seemed to remember this to be his hometown. But that was a dim memory. He couldn't remember who his parents were, or where he was. Clint stood up and dusted his pants off. He wore sturdy, black pants and durable brown boots. The boots had three buckles to anchor them onto his feet. They seemed worn down, dusty and showed signs of moderate abuse. Despite that, they remained intact and didn't seem to give way to tear. Clint also wore a black jacket with red running down his sleeves. A crimson collar opened up and ran down his chest, revealing a black shirt underneath. He noticed he was also wearing a necklace that, upon closer inspection, contained a symbol in the language of the continent.
He read it out loud, saying to himself, "Seal of the First." He did not know what this message meant for him or for whoever gave it to him, whether it was his mother or father.
Clint finally decided to search the ruins of the smoking town to see if he could find anything of interest. He continued walking, until he realized that he had reached the center of the town. The street opened up to a circular plaza with a large stone fountain at its center. He walked up to it and noticed that the angel statue had been dilapidated to the point of no facial resemblance. Only a human figure with broken wings stood with a hole at its mouth. No water was flowing out of it, in fact the entire fountain was dried up. The stone fountain showed further signs of decay with its blacked stone, covered with ash.
Clint turned to face the street to the right of the fountain and began walking in that direction. He couldn't recognize any of the houses but at the end of the street he noticed something glinting out of a collapsed house. He was curious to see what it was because there was no light in the sky to cause this object to shine. He felt a sudden vibration in his chest upon approaching it and he realized that his necklace was humming. The vibration grew stronger as he got closer and then suddenly stopped when he reached the object. This object, Clint recognized, was the handle for a sword. Reluctantly , he reached forward to grab it. He wrapped his hand around the handle and pulled it from the rubble. It was a rather heavy blade for its size. A silver, one-sided, two part blade. It had a large stem with several minute, yet sturdy bridges connecting to a much smaller and sharper part of the sword. A blood-red streak ran up the larger part of the blade. The grip on the handle was roughly put together with a dark grey cloth. Clint held it gingerly in his hands trying to get a feel for it. His mind struck upon a faint recognition of the sword. It felt familiar somehow. As if he already mastered the use of the blade. He suddenly realized a host of knowledge in the handling of a sword. Perhaps he could connect this to his old life. It was possible that his father taught him when he was young in the art of the sword. However, this did not help at all in identifying his father. Rather disappointed, Clint busied himself with finding the blade's sheath among the burnt wood. Once he found it, he tucked the sword away and strapped it onto his back. He stood staring back at the plaza fountain for a few moments, then turned his back to his former hometown. With a flaming coolness in his eyes he walked into the the dense forest. He didn't know what to expect but he what he did know was that he was on his own and he didn't need anyone to tell him about the dangers he would face. He knew the blade like he had been using it before he could walk. He seethed with confidence as he stormed with a raging fire in his eyes, ready to find out about the world around him.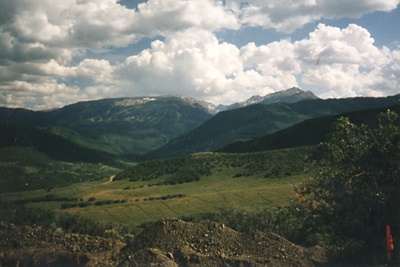 © Photo by Michael B., Denham Springs, LA