Spencer's special day
October 4, 2018

It was my cousin's 5th birthday party I was nine years old… The event was held at his house with family and friends. Spencer's 5th Birthday Party and I wanted to surprise him with his favorite dessert , Peanut Butter Swirl Brownies. This dessert tastes like chocolate heaven. I make it from scratch and with love. The main ingredient is peanut butter. The peanut butter is silky smooth and rich in favor.
When the clock struck 12:00 p.m., my cousin walked into the house unaware of what awaited him. When we yelled "Happy Birthday!" Spencer's reaction was perfect.
He sprinted over to me and said "Can I have one?" because he saw what was in my hands.
I said "Sure!" I then led him to the kitchen to show him what was waiting and anticipating his reaction when he discovered two boxes each holding twelve of my still warm homemade brownies. He ran over to them and then back to me. I picked this memory because it was heartwarming to see his reaction because he ignored all his other gifts until he had eaten one. That was one of the best days of my life, just thinking about it makes me smile.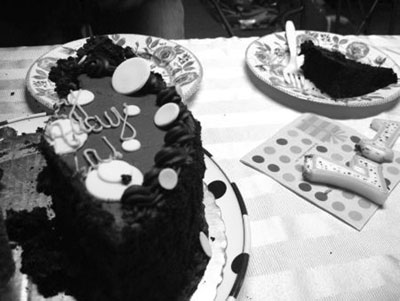 © Carolyn K., White Plains, NY