Comfort in Time
February 24, 2019
For a brief second, I feel content with what I have. It's a temporary sentiment that somehow lives on forever in the hearts of the hopeless. Mama always tells me to "embrace the little things." Like I have a choice. Still, I am obligated to heed the advice she gives me, considering there is no substitute.

It's 7:49 a.m. on a Thursday morning, and I am in the car. My forehead leans on an icy window as the trees planted in the road median blur past my line of sight. I look above to recognize the presence of massive clouds and migrating swallows. The scorched leaves of autumn coat the lawns of deteriorating homes, enhancing the blank neighborhood, and beaming lights brighten the darkness of early dawn. I wish I could stay here. When I glance at the clock, panic sets in. Eleven minutes till school starts and a fifteen-minute drive to the school don't align to appease the anxious demands of the human mind, especially when one's first period is a Calculus exam that requires the total ninety minute class time. I press Mama to drive faster, yet my pleas go acknowledged but disregarded.

My mother likes to see things calmly. Every morning she woke up an hour early to sit on our scratched leather recliner stuffed with melted candy pieces and brownie crumbs, with a cup of black tea in hand. Staring back at her through a dust-encrusted window was a landscape of half-mowed dark green grass and a dense collection of maple and oak trees. The grass was mostly stubs of dandelions and bittercress, and the trees' interior was home to millions of bark beetles, but as long as nothing was visible, it was a sight of serenity. The light of morning cascaded upon the lawn, only augmenting its magnificence.

It amused me profoundly to see how nothing fazed her, good or bad. The world runs its course, and my mother was merely a spectator to it all. She made her share of mistakes but kept them to herself, silent yet aware. This was one of those times, except I am bearing the brunt of her mental absence. Most troubling, the car ride was deceivingly peaceful.

Staring intently at the road with periodic shifts towards the clock, I wonder how likely my chances were that God would grant me a few extra minutes grace. The school comes into sight as we round the corner, and I wait for the car to merge into the tight sliver of space beside curb before scrambling out.
The frigid-stale room is redolent mildew and yesterday's fatigue. Furnished with congregations of students at all corners and air filled with laughter, rumors, and inside jokes, the room was made alive. I get seated at my desk beneath the cheap fluorescent lighting and adjacent to an array of rain-covered windows. My sleeve rubs against the pencil markings on the table surface, erasing clusters of memorizable formulas and curse words. Two other kids remain at their desks as well, cramming for the test—while I fill this time trying to seem aloof and psychologically occupied as to avoid any conversation or pity. I pretend to search for something by digging through my backpack, then turn to check text messages that have already been read. My teacher stands from a distance urging the class to settle down while I clumsily kill time. Please, just give me the test.

The hours impelled my tolerance, prolonged and persistent. I scrutinized from the sidelines, knowing very well that I held an invitation to join in with the narrow world transpiring in front of me. It was brutal, yet welcoming. No thank you though, I would much rather endure, trusting that something will come to rescue me.

As the day carried on, it's routine grew evident. Teachers asked trivial questions that begged even more trifling answers. Topics of discussion alternated as the classes changed, from derivatives to tariffs to dogs to date-night. Lonesome travels through the crowded halls made up the majority of my day. Nonetheless, as time accelerated its progress, I was nearing liberation.

Finally, the bell rang.

Comfort is an inexplicable idea. An aim—Intangible and barely existent, until it arrives. Here it stands, engulfing me in its arms. I clutch that feeling however fleeting. As long as I have it, it is genuine.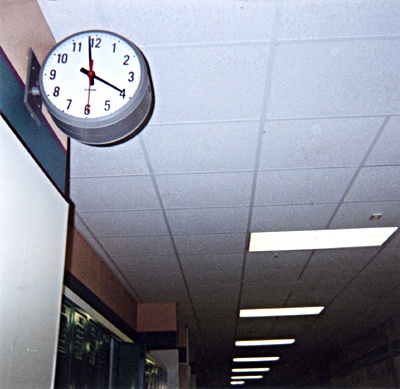 © Blake B., Highland Village, TX