My Guardian Angel (Ch. 1 and half of Ch. 2)
January 20, 2010
Ch. 1 "Where am I?"

All I remember from that night was screaming....

I remember waking up in a white room with lights focused on me and needles in my arms. Silent murmurs came from the hallway and stopped when the doctor came in. I remember asking what happened to me. He only asked what I remember. A police officer came in and told me that I had been in a car accident.

That's when I noticed something odd.... My family wasn't in the room. I asked if I could talk to my parents. The doctor and police officer passed a glance between each other.

I hesitated then asked, "Where are my mom and dad?"


Ch. 2 "I'm too young!"

Standing there holding my brother's hand next to a weeping willow, my eyes finally started to tear up. I gripped the thorny stemmed roses in my hand tight. Only when I walked up to lay them down did I realize the red blood drops on the two white marble coffins. When I looked at my hand, my tears fell on the small cuts left behind by the thorns. Watching the blood mix with the salty tears, everything caught up with me.

My parents are dead. I'm shedding the very blood that ran through their veins. I'm only fifteen and I already feel like seventy. I keep asking myself how I'm going to live. Both parents dead...not knowing how the car wrecked...where Nathan and I are going to live now. Jumbled thoughts kept running through my head, thoughts that I shouldn't be worrying about for years. My parents can't be dead! This only happens in books and movies! What am I going to do?

Tears well up in my eyes again and I drop to my knees. I can't help myself anymore. I'm tired of being strong for Nathan. I want people to know I'm weak.

Just as I start to calm down, I feel a small hand on my back. I look up to see Nathan staring at the coffins, tears in his small brown eyes.

He took a shuddering breath and said, "The sky is blue and the grass is green. Sissy, some things leave, but not Mommy and Daddy. They will always be right here." He put his tiny six year old hand on his heart.

I grabbed him and hugged him close. I cried right there on his shoulder. He rubbed my back and said the strongest words I've ever heard, "Mr. Jesus will take care of them, Sissy."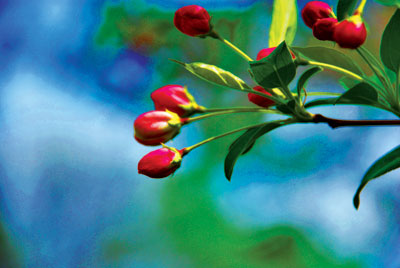 © Hannah B., Princeton, IL