I Give Up, You Throw Up: A Short Tale of Revenge
July 6, 2010
My first memory is when I was two years old. Nobody believes me when I say this. I even got yelled at in sixth grade when I had answered the question on a survey.
"Alice, honey, you can't possibly remember that far back," Ms. Ash chastised me gently. "Please answer this question truthfully. I know it's hard not wanting to show off, but the rest of the student's have logical answers."
"But I did answer that question truthfully," I said, amazed that she didn't believe me.
"Well, then prove it," Ms. Ash giggled a little impatiently. She smiled sweetly – she had this fake, sickly sweet smile she used when she was trying not to hurt your feelings even though she knew she was going to get her way – and folded her hands neatly on her desk.
I remember staring dreamily at the rotting apple she had placed on her desk. She couldn't see that it had grown a hole on the side of it, because that side was facing away from her desk. She had bought it the night before to use as her lunch. That's all she was planning on eating. One apple. Everyone that has her for English or Reading knows she's trying to lose weight that she doesn't even have. Ms. Ash is very tall and bony; her skin clings to her like spandex. I also overheard her bragging to the teacher next door that the apple was only twenty-five cents at the organic food store. Normally they're lot more.
I tore my eyes away from the festering hole in the red, 'organic' apple. "I can't tell you," I said stiffly.
"Why is that?" Ms. Ash's smile grew enormously big on her anorexic face.
I shifted my feet impatiently, trying to come up with an excuse. "I just can't."
"You mean you can't remember?" I wanted to slap her so hard that her putrid Barbie pink smile landed on the hard, purple-carpeted floor.
"I mean I can't tell you," I said.
"Alice, why don't you go sit down and change this answer," she said, "Hurry up, or you'll miss lunch."
Ms. Ash picked up her apple, still smiling, and took a bite. I guess I made a face, because she asked me, "Is something wrong?"
"No, Ms. Ash," I said, with a sickly sweet smile of my own, and I changed my answer to five.
Later that day, when I returned to that classroom for Reading, a substitute teacher was there. Ms. Ash had gone home on account of food poisoning, although none of the teachers knew what could have possibly poisoned her. All she had was that cheap, organic red apple.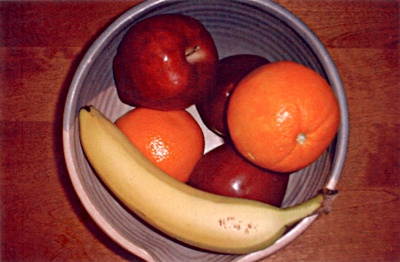 © Justin B., Milford, CT