Alexandria Scarlet Welsh
April 25, 2011
As I walked home from Rosefield High, the well-known drug-dealer, Knife, was walking down the street towards me. Somehow, the police still hadn't caught him. I darted into a dark alleyway without a second thought. By now it's like a second nature; an instinct. As I waited for him to pass, I thought about how stupidly dangerous my neighborhood is. Ugh, sixteen year olds shouldn't have to go through this, but of course, I do. Well, at least I've got street smarts, they certainly come in handy. I've been doing this ever since I turned seven.

Oh good, he's gone! Now I can go home to my loving and gentle mother. And you can't forget my two brothers and sister! Ok, I'm at the door now… and I forgot my key. "Mom, can you let me in?" I shout.

"No way, you're a stupid stranger, and you have to leave now." She says. I know she's not going to let me in, and I did not just sprint home for nothing. I get down on my knees, yank a bobby pin out of my long black hair, and pick the lock. As soon as I get the door to swing open, I see my mom standing there pointing a shotgun at me.

"You ain't robbin' my house tonight mista'!" She shouts with a thick southern accent. She only does that when she's mad, scared, or nervous.

"Wait Mom, hold on a second, don't shoot! Let me prove I'm your daughter!" By the way, my mom has extremely bad vision.

"Fine." She mumbles cautiously.

"My name is Alexandria Scarlet Welsh. I'm sixteen and am living in N.Y.C with my mom, that's you, and your name is Natalie Rose Welsh. I have a thirteen year old brother named Matt, an eighteen year old sister named Charlotte Marie, and a twin brother named Tyler. We have a golden retriever named Lillian, and if I didn't live here it would have been death by furball." I blurted out.

"Oh, I'm so sorry sweetheart! You know that I can't see well, so it's kind of hard to believe everything you hear in this neighborhood!" She exclaimed while enveloping me in a bear hug.

"Mom, it's alright! No worries, just buy a pair of gla…" I was cut off by a knock at the door. I opened it cautiously, and it was Knife!

"Hey, you wanna' buy anythin'?" He asked me.

"You get the heck away from my house fool!" I screamed while my mom pointed the gun skyward and shot a single bullet. He turned an unnaturally pale color and ran away shrieking, "I'm gonna' call the cops on you for shooting a gun!"

While you're at it, make sure to tell them that you're selling drugs!" I retorted.

"Aw dang, I wrecked the ceiling again." Mom muttered.

"Oh Mom!" Matt, Charlotte, Tyler and I said in unison. We came in for a family hug, minus dad who's on a business trip, while laughing our heads off. Wait; is it even possible to laugh your head off?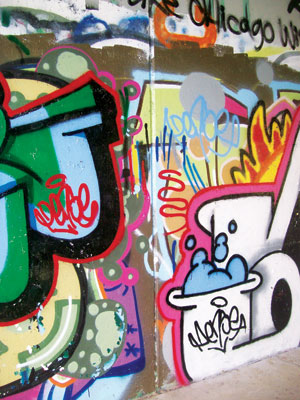 © Michelle W., Ada, MI