The Noose
May 28, 2011
"Come in and sit, dear," the mother calls.

The daughter stiffens. She walks hesitantly toward the chair, the hard polished oak gallows surrounded by golden-wallpapered lies.
The mother picks insecurely at a length of twine as she sits anxiously, leans forward, pats the seat across from her.
"Come, tell me about your day."
Her words twist in the air, braiding themselves into rope, taut with judgment and overbearing.
The daughter inches closer, warily anticipating the rope's next move.
The mother narrows her eyes. "I said, come talk to me." Her voice grows tenser, the rope pulling tightly. The daughter, trying to avoid execution, stands behind the polished gallows. Her voice resounds dully off the kitchen walls.
"What would you like to talk about?" Her tone matches the rhythm of the tried prisoner, sentenced to the ultimate fate, plodding methodically and hopelessly toward his eminent death.
"Give your mother a hug, and then we'll discuss your day." The mother's arms spread wide, the rope stretching to its full length. When the daughter steps close enough, the rope wraps around her. A noose is crafted, able hands expertly tying the knot.
The mother shoves the daughter back toward the gallows.
"Now tell me: what happened at school today? What's new?"
She awaits the response, rope in hand.
The daughter received a less-than-perfect grade on a test. Shameful performance, she must strive to do better next time. The noose tighten.
The daughter attended a seminar for students interested in acting professionally, her dream job. No, her future has already been ddecided. She will become a doctor; didn't they already discuss this? The rope constricts. The daughter tugs at the noose. She wants to attend college at out west. No, too far away. She must remain close to home. Tauten. Tug. Her friend is hosting a party this weekend. No, she invests in too much leisure time, needs to focus on more important things.
"No."
"Absolutely not."
"I'm disappointed."
"You do that too much."
"We've already talked about this."
The noose shrinks with every phrase, drawing closer and closer to the daughter's delicate neck. It finally reaches her skin, cutting into the soft flesh mercilessly, relentlessly. The daughter claws at her neck, gasping, desperately fighting her mother's words for air.
"Yes."
"I'm sorry."
"I'll stop."
"I'll focus."
"I won't go."
"I'll do better next time."
Satisfied, the mother releases her daughter.
"Go do your homework."
The noose loosens and falls to the floor. Choking, the daughter abandons the gallows and escapes to the solace of her bedroom.
The mother resumes picking at the twine.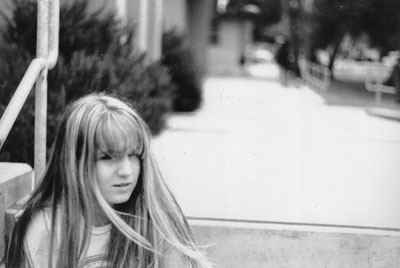 © Alyssa R., Pacific Grove, CA