Again
July 29, 2011
The last time I saw Lydia Newberry was two years after her death. I was still struggling to move on with my life, and one day, while at a business meeting, my friend suggested that I try to get some closure.

"She's not going to come back, Thomas," my friend had told me.

"I know," I replied sadly. But I did not know. I still wanted to talk to her again. My friend handed me a glossy advertisement, with a picture of a strange looking woman on it.

"You should go see her. Her name is Madame Zelda. She's a psychic who specializes in communicating with spirits from the other side," he explained.

I was skeptical, but took the flyer anyways, out of sheer desperation. I wanted to talk to Lydia so much that I did not care that I would have to conduct a séance in order to do so. Fifteen minutes later, I found myself inside a small, dark room, sitting in an ornate wooden chair at a round table, across from the same eccentric-looking woman whose picture had been on the flier. The room was completely dark except for the light coming from the scented candles that filled the room. The table was covered with a red tablecloth, and was empty except for a crystal ball and an Ouija board.

"I am Madame Zelda," the woman proclaimed, "Who are you and who do you seek to speak with?"

"My name is Thomas Parker. I wish to speak to my fiancé, Lydia Newberry," I replied.

"You can only speak to her if she wishes to speak to you. But I will try my best to establish contact," Madame Zelda had replied, "But first, you must tell me the circumstances of her death."

I sighed. I hated remembering Lydia's death, and still could not say the words 'Lydia' and 'dead' in the same sentence, but I proceeded to tell the story anyways. "It was two years ago today," I began, "when she died in a car crash. She was at my house, and we had an argument. I accused her of keeping secrets from me, and she was furious. We yelled at each other, and finally, she left. She slammed the front door, hailed a taxi, and left. I even told her that I never wanted to see her again. I never thought that it would come true, though, but half-an-hour later, I got a call from the ambulance, and found out that she was dead. I still can't believe it. I want to tell her that I'm sorry, and that I still love her."

Madame Zelda sighed. "Ah. The tragic love story," she said. "Let us begin." She closed her eyes and began to hum. Suddenly, she let out a great whoop.

"Thomas?" she said in a voice that did not belong to her. "Thomas?" she asked again, "Is that you?"

"Lydia? Yes, it's me! I'm sorry, Lydia, I still love you. I never meant to—"

"No Thomas, I'm sorry," she interrupted, "I'm the one who has to apologize. All this time, you've been so sorry and guilty about my death, when you should know the truth. You were right, Thomas, I was hiding something. I was cheating on you, and I was never going to marry you. I wanted to break the engagement."

"What?" I was devastated.

"Good-bye, Thomas. For good," Lydia said. Then, she was gone. Madame Zelda returned.

"I hope you learned what you wanted to know," Madame Zelda said. She seemed to have no recollection of what Lydia had just said. I was unsure whether to believe what Lydia's voice had said. It could be a trick, I had thought to myself, Zelda could just be making it up. Lydia loved me. Didn't she?

I walked out of Madame Zelda's office, my thoughts a confusing blur, and out onto the busy streets of New York. It was raining. I felt as though part of me was free, and yet as though another burden had been dropped on my shoulders. I opened my umbrella and started walking home, and that was the last time that I ever saw Lydia Newberry.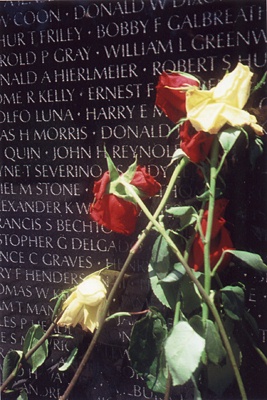 © Justin R., Angola, IN