My Guardian
September 2, 2011
The raven that sits on my windowsill comes every morning. Mom and dad are still asleep by then, along with Jack, my brother. I sit up in bed and watch the raven, wondering why he's there. He cocks his head to the side as I try to remember the dream from the night before. I wonder when the raven gets there, because he is always there when I wake up.

The black cat that follows me to school comes every morning. I walk, and it follows. It likes to meet me at the corner of my street, and then walks all the way to the park. It cocks its head to the side as I cross the street. I wonder why it follows me, because it always stops at the crosswalk.

The little black dog sits outside my classroom window every day. The students don't notice him, but I always do. I always wonder why he is there, watching me so closely. I feel bad. It looks like he might want something—perhaps a nice bone or a chew toy. I want to help him, and I wonder why he comes, because by the time I come out of school, he is always gone.

The little girl with the long black hair always watches me when I come home from school. I'll bet she thinks it's a game. She follows me through the park, and I glance at her, then smile and pretend not to see her. Her lips never turn upward, but I wonder if she giggles when I look away. She follows me to the corner of my street, and then watches me go. I wonder why she follows me, because she never says hello to me.

Then I come back home again, and who is there waiting for me? The raven. Always the raven. I eat supper and he sits at the kitchen window. I read in the family room and he watches from the large bay windows. When I slip into bed, he is there, and as my eyes close into a new dream, I see him leave out of the corner of my eye.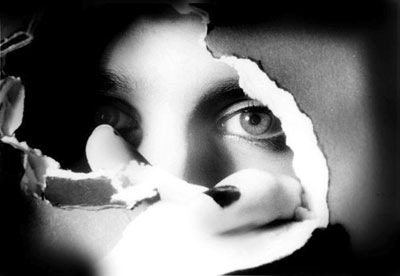 © Tabatha B., Peoria, IL