Pink Petals
December 17, 2011
The pink rose petal flutters to the ground, landing on the hard, barren cement. The contrast between the two objects is impossible to miss. The pink rose petal is soft and bendable. The texture is as smooth as a baby's bottom and as comforting as a warm blanket in the winter. The ground is brown with specks of grey showing beneath all the dirt. It is cold and lonely, the sunlight only magnifying its dreary color. The cement somehow holds the power to suck the beauty out of everything it touches, leaving the rose petal pathetic and forever lifeless.

At first glance, the contrast between the two simple objects is beautiful…the way the delicate color sits on the dull brown. Upon further inspection, it just becomes a sad image; something so beautiful that represents happiness and love can all of a sudden change to signify a broken heart or what could have been. It now represents the tear of a once fully blossomed green-leaved bush, which grew the pink roses that brought smiles to people's faces. The image of a withering rose bush comes to mind, making it hard to look at the pink rose seated on the cold ground and see the beautiful love it once expressed.

The petal sits there, resisting the persistent urges from the wind to carry it away and take it to a better place, some place where it is no bleak. It's given up any hope of being the pink, breathtaking petal that twirls and dances in the wind. It is going to end up cold and alone, its fate no longer the vase in the young girl's room, but the bitter footprints of those passing by. It has been forgotten and ignored, much like the rest of the beautiful things on the planet eventually end up.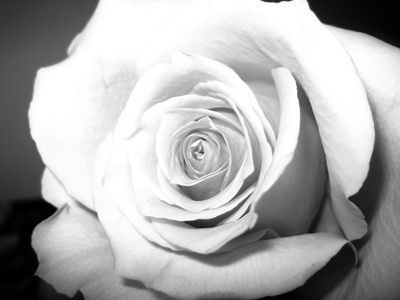 © Kimberly C., Houston, TX