The Bird Who Looked Back
February 12, 2012
The tall buildings in the apartment complex glinted in the bright morning sunlight, occasionally sparkling as residents pulled back their curtains to welcome in the new day. One building in the complex surrounded a luscious and flourishing park. At this hour, only a few birdwatchers occupied the park. Other than them, it was empty; except for the birds, of course. At a thickly canopied tree at the end of the park, a Mama bird and her son urgently hopped around.

"Hurry!" urged Mama Bird, flapping her navy blue wings in distress. "You should have been out of here by now!".

"What's the hurry, ma?" inquired her son, brushing his sapphire blue wings as slow as he possibly could.

"You should've left a long time ago! What's the hurry? The hurry is that your younger siblings are coming back from their flying lessons soon, and tomorrow, they'll leave the nest! You've been here far too long. Your flying lesson was 2 days ago!" exclaimed Mama Bird.
She snatched the blunt stick out of her son's beak and quickly ran it through his feathers. "There!" she tweeted, satisfied. "You're ready now! It's time for you leave. Go!".
Mama Bird pushed him, and the son was falling.

Sullenly, the sapphire bird rose, soaring over the calm environment. As he flew, he was overcome with a desperate need for a last glance at his first, and, he was sure, his only home. He swung his richly colored body in a wide arc, flying backwards. He stared at his home and remembered his first glimpse of the green park, and the first meal he ever ate, and the trepidation he had felt before his first flying lesson. He watched Mama Bird hurriedly clean up the nest, pending the arrival of her little ones. The sapphire bird felt a sudden pang of sadness; he was no longer wanted.

Suddenly, the sapphire bird realized Mama Bird was no longer cleaning. She was frantically tweeting and flying in low circles, in a state of panic. Mama Bird's son felt a warmth spread throughout his body. He was wanted! Bursting with happiness, he performed a graceful back flip in the air. Shock overwhelmed him as he realized a concrete wall approaching him with terrifying speed. He heard a sickening thud and felt the devastatingly painful reverberation shake his body. As he fell, the sapphire bird saw his younger siblings arrive home.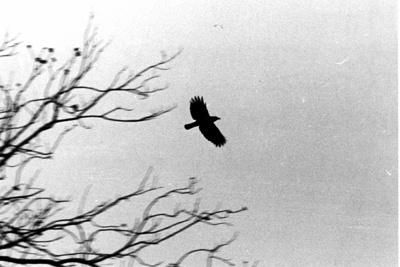 © Jacqueline T., Flowermound, TX