The New World Assimilation Project
February 29, 2012
"that's one hell of a painter's canvas," remarked Heinrich, looking appreciatively at Benito.



"I know," said Benito, grabbing his pink paint and setting to work, "you gotta make it good at this time of year. People get all cynical, you know? It's cold and they're not really outside."

"I see what you mean. The boss sent me up to see how you were doing. He's worried about you, you know. Says you work too many long hours by yourself."



"Yeah, well, I like it. I think the beginning of the day is my best work, but people are never up, so I make it big this time 'round. He has nothing to worry about, I'm perfectly happy, see?"



"He just wanted me to see how you were getting on. You did really well at initiation, you should see some of those poor sods we have to deal with sometimes, you were a blessing. And of course, you got to do this job." Heinrich looked enviously at the open jars of wonderfully smelling paint. "nothing like the crowd control I have to do downstairs."



"But you're the best you know, after Pete. Everyone says you'll take over when he retires."



"Oh, everyone," said Heinrich, waving his hand in the air as if to indicate he didn't hold any truck with the idle gossip of the general public, although his face was a bit pink, and his lips were curled in a small smirk. Benito shrugged.



"I think you're the boss's first choice, at any rate. Pete is a wonderful man, but he can't stay forever. I talked to him the other day, he said he was looking forward to the quiet life, working in his garden." Heinrich laughed.



"This IS the quiet life. Or it's advertised that way, at least." He looked down at his watch. It was illuminated with tiny pinprick stars, and there were at least eight hands moving around the perimeter. "Well, it's my shift soon, Ben, I expect I'll see you soon. You're coming to Supper, aren't you?"

Benito smiled. "I'll try. Sometimes I get so immersed in my work, I forget to eat or sleep. Of course, I don't feel many ill effects from it. I'm still getting used to everything."



"Well, don't forget today. The boss will worry about you even more."



"Alright, Heinrich. Good luck today, eh?"



"Thanks." He unfurled his wings, and shot off into the fluffy clouds, whistling the New World symphony.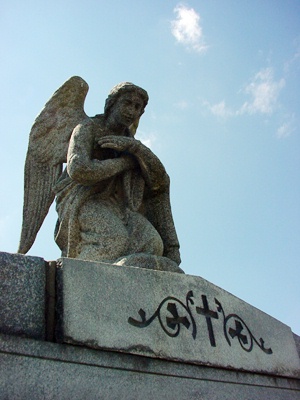 © Greg K., New Lenox, IL