The Dance
July 13, 2008
Veronica

I was more than nervous from the second I asked Nat to the eighth grade dance. I had never been to a dance with a guy before, but I figured that this didn't really count, since Nat didn't like me as anything more than a friend, even if I had an uber-crush on him. Even though I was nervous I knew that there was no backing out, especially once I had put my dress on. I frowned in the mirror as considered if there was a way I could still not go but not upset Nat, but I decided that there was no way out of this.

Nat and I were good friends and had been all school year, there was no way I could do that to him. My friends would have been disappointed in me, and Nat would never hear the end of it from the other guys. Plus my mom would kill me. And my dad, well he would have been mad too, had he still been alive.

Darn it, I thought. There I went again; ruining everything by thinking of my dad, who I hadn't been able to save.

"Veronica, time to go!" My mom called, "Nat and his mom are here."

I quickly rushed to the front door where my mom, Nat, and Nat's mom stood waiting.

"Hi, Veronica." Nat said smiling, "You look nice."

"Hello, um, you look nice too." I replied, and he did look nice, in his suit, with his hair all brushed. Wait, I thought, his hair is brushed. I knew that that meant something, and suddenly I was even more nervous than I had been moments before. My legs started shaking, and in high heels that's never good.

No one noticed my shaking legs as our parents had us pose for pictures. When Nat and I finally got into Nat's mom's car I could hardly see from all the pictures that were taken




~

Once we entered the dance Mel, Alicia, and Amy quickly spotted us. "Ooo, aren't you two just too cute," Amy teased.

"Yeah you two look like the dream couple," Mel added.

I smiled as my friends teased Nat and I. I wasn't sure if Nat and I were quite a couple, but I wasn't going to argue it. No, I decided, I was going to enjoy the night and not debate what my friends said.

After we all talked for a few minutes, a slow song came on. "Nat, Veronica you two need to go dance," Alicia prodded.

When Nat and I just stood there, Alicia added, "Like NOW!"

I looked at Nat and then said, "No way."

"I don't really feel like dancing right now." Nat said.

My friends shrugged and left us to manage conversation on our own. "So, um…this is fun. Huh?"

Nat laughed, and nodded, "Sure is." We stood there watching other couples dancing.

"Hey Nat," I said.

He looked at me, "Yeah?"

"We should dance, if nothing else so my friends won't bug us later," I paused, "Who knows it might even be fun."

He chuckled, slightly, and then took my hand and lead me to the dance floor. Then he put his right hand on my wast and put his left hand in my right hand. As we danced I thought about how slow dancing wasn't so bad.


Seeming to mirror my thoughts, Nat asked, "This isn't so horrible, is it?"




~

Nat

"No this dancing thing defiantly isn't so bad," She replied blushing slightly.


"I'm glad." I replied simply.


I was defiantly enjoying dancing with Veronica. I didn't really mind that she had probably just asked me to the dance as a friend, or out of pity. I got to dance with the girl that I had a crush on, and to me that made it okay.


Too soon the slow song ended and some stupid pop song blared out of the speakers instead. I wished that the slow song could have lasted longer, because the way I figured it, that was the one and only time Veronica was going to dance with me.

Veronica and I walked over to where our friends were standing. "Hey love birds," Alicia teased.

I blushed, but Veronica didn't. That made it worse, and even more apparent that she didn't like me.

About an hour later another slow song came on, and as the other guys paired up with girls, I braced myself to be the guy that no one- not even my own date- wanted to dance with. But then a miracle occurred: Veronica came over to me and asked, "You want to dance?"

I nodded, "Sure," I said, and I knew I was grinning like an idiot.

After that we danced one more time, later in the night. And I knew that I liked Veronica even more than before, I also knew that it would make it ten times harder to act like I was just her best guy friend.

Veronica

At school the Monday after the dance lunch was very awkward. Nat and I couldn't have said more than fifteen words to each other.


"Hi, Nat." I said.

"Oh, hi Veronica." He replied.

"The dance was fun, huh?" I asked.

"Sure was." He replied.

And that was it. BD (before dance), Nat and I had talked for the entire lunch period, but AD (after dance) it all went down hill.

That's why, when ninth grade started and I heard that Nat and Amy were going out, I wasn't that surprised.
Disappointed? Sure. Did I want to claw Amy's eyes out? Of course. Surprised? No.





~

Nat

Veronica and I stopped talking to each other after the dance; for me it was because I liked her too much, but I figured that for her it was because she hated me so much. Then right before ninth grade year started one of Veronica's best friends Amy asked me out. And being stupid me I agreed.

But what was I supposed to do? Was I supposed to say "No I just like you as a friend?" Well yes that might have been a good idea, I realize that now, but when she asked me out all I could think was, "If Veronica doesn't like me then going out with Amy might be good."

What an idiot I was, and now I have no chance with Veronica, not that I did before.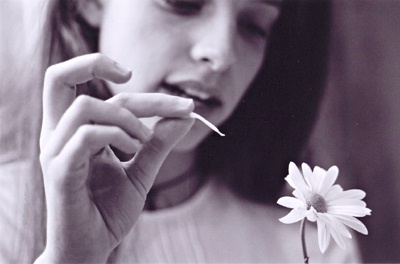 © Emily B., Houston, TX