The Lonely Bisexual
November 21, 2012
There once was a little Bisexual, and she was quite alone. She roamed the globe for a place to call home, travelling from land to land. The first she happened upon was a land called Straight. All of the people there were quite privileged; no one ever discriminated against them, and thus the land was of great appeal to her. As she reached the pearly gates of Straight, she noticed a guard standing just outside them.
As she approached, the guard demanded, "What do you want?"
"I would like to live here, I think" said the little Bisexual timidly. "I'm looking for a home. May I enter into the gate?"
"Absolutely not" cried the guard, appalled. "You do not belong here. Here in Straight, we love the opposite gender. You are clearly not one of us. Come back when you've grown out of this phase. "
"But I do love the opposite gender! And I'm not in a phase!" the lonely Bisexual protested, but the guard wanted to hear nothing of it.
The pitiful Bisexual crossed over a large sea, and arrived on the shore of a land called Gay. A rainbow stretched across the sky as far as the eye could see, and she could hear the sounds of a parade just beyond the gate. Although quite opposite from Straight, Gay greatly enticed the little Bisexual, and she very much wanted to enter. Again, a guard greeted her.
"Greetings!" the guard called cheerfully "Welcome to Gay!"
"You mean I can enter?" The Bisexual's eyes lit up. "This could be a nice place for me, I think."
"What are you talking about? Of course you can't enter," the guard said, still smiling. "We only love the same gender here. You're still halfway in the closet. Come back when you've picked a side."
"But I can't," grumbled the Bisexual grimly.
She turned and left Gay, and walked some more, until she reached another gate not too far off. She walked up to approach the guard there, but before the Bisexual could utter a word the guard said pretentiously, "What, you can only love two genders? Come back when you aren't so close minded!"
"But-" started the Bisexual.
"Goodbye!" shouted the guard.
The lonely Bisexual, at this point feeling rather pathetic, walked forlornly on. She somehow came along an uninhabited land. The open gate was purple, and no guard stood waiting to reject her. She went into this land and lived happily, and the population grew as more lonely Bisexuals came to call this land home.
One day, when the Bisexual, who was quite older now, was on guard duty, a small boy wandered to her gates.
"Hi, my name is Confused, and I haven't an idea where I belong," he said in a small voice.
"Don't you worry," she told him, opening the purple gates. "Welcome to the land of Bisexual. You can stay here as long as you like," and little Confused trotted along inside, grateful to have a place to stay, if only for a while.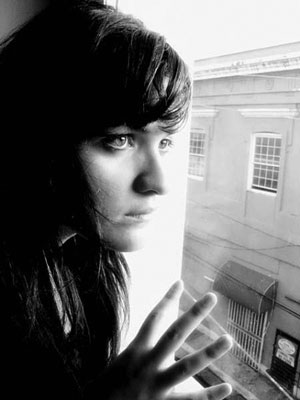 © Eveliz V., Bayamon, Puerto Rico