The Short Life of a Raindrop
June 12, 2013
The raindrop was born into a purple-gray sky, but it barely had a chance to look around before it was hurled from the heavens. It didn't mind the sudden departure; there was far too much to see. It tumbled atom over molecule, hurtling toward the colorful Below.

Below was a wondrous land of green and brown, spotted with fluffy pink cherry trees and sunny yellow daffodils. The further the drop fell, the more it could see and the more it wanted to touch. It streaked through a rainbow, passing through the color spectrum in a fraction of a second.

Please, it whispered to the wind, send me somewhere bright. The wind whistled in reply, snatching the drop up and away, sweeping it into a frizzy copper cloud. The drop soaked in, reveling in the new sensations of skin and hair and human warmth. Red Cloud was moving, spinning, leaping into the air.

The drop was joined by several of its kin, and it felt very blessed indeed. Red Cloud was laughing, a joyful burble that reminded the drop of a brook it used to know in a past life. The drop felt itself slipping, sliding into a stream that made its winding way down Red Cloud's forehead until it found itself caught in her eyelash, seeing spring the way she saw it. A sparkling new world viewed with crystalline clarity through a thousand drops of rain.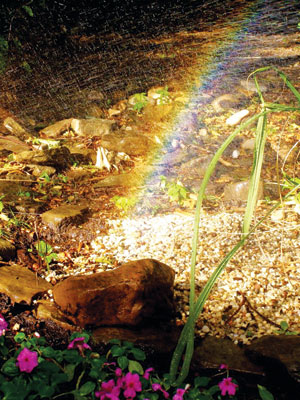 © Kristine B., Setauket, NY