The Death of Tang
December 15, 2014
My heart stops
My feet freeze
My head spins
My screams choke me
The car was heading towards me, I couldn't move, but someone did.
Tang saved me from the car, the car that killed him, that killed me, that killed him…
His body is under the car, his eyes a cold ice blue, his lips pale at the experience…
I froze and I let it happen, I couldn't move, I saw the car coming,
I killed Tang
I cried for days, my eyes bursting with all the pressure, my tears trying hard to hold back. I started ripping out my hair, Tang's face looking back at me, his hand stoking my face, his ocean eyes expanding a million miles into me, looking for answers.
It was Nancy Hues who did it, she killed him, that imbecile of a person, and she doesn't know what pain she caused.
She is charged with crime
The hearing will be three weeks from now, I will be there as a witness and also a target but thanks to Tang, and I'm alive.
Wednesday, 3pm, Saint Patrick's Day is the funeral date.

We all lost Tang, everyone did, anyone who knew him understands.
The funeral was dreadful, everyone cried and sobbed, i need you.
We all cry for the ones we lose…
Tang, you were beautifully made and still are and I love you with all my heart, I miss you and wish you could come back, I need you and I need your arms around me, your eyes to stare back at me and keep me going, I miss you Tang and I really need you and it is all my fault that you are gone. If only I had pushed you out the way and let the car take me instead, but you were brave and saved me from it instead and I cheeriest that, but I wish you didn't…
I can't go on, my eyes are tearing up fast and again I am blinded by them, but I feel your arms around me, urging me on.
I hate what you did for me Tang and I will never forget what happened, more tears come and I'm speaking through them now, I have to finish this, Tang, I remember the first time I met you, and you walked up to me and started talking to me about world war 2 or something and then you asked about me and then we just became friends from then on and once when we were sitting on my couch, your arm around me, and I felt that nothing could take you away, nothing, and that I needed you more and more each day and that nothing could break us apart.
But I wish that didn't happen.
But life can lie to us and get our hopes up for nothing.
You were my friend and I need you Tang, my heart is breaking without you, I need you, we all do, please!
Kennedy Johnson (Tang)
I love you
If only God could have mercy on your soul!
I miss Tang a great deal, we all do and I blame myself for it all, I should have pulled him out the street like he did to me.
But I've realized something, Tang may be gone, and by doing that, there's no one to comfort me or care for me like he did, but someone was always there for me. My mother, she's the one who pulled me into her arms and cradled me when you died, even if my dad left, she was always there for me, through my mess and all and I realize it now.
After the funeral, Tang's father calls me over. He looks horrible, his eyes sunken and distance. His hair not combed probably, collar slipping off.
His eyes reach mine and I look at him.

He's gone and nothing can bring him back.
He then pushes something in my hand, something warm and soft
Tang's jacket
His sweet smell,
A line of hair
I grab him and hug him
I remember when he was wearing this jacket, smooth leather, crippled and light, his body safe inside.
I clutch the jacket to my chest and feel Tang's arms around me, his ocean eyes staring back and I feel whole again...
I have you again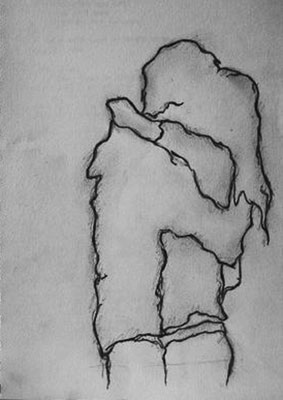 © Nicole B., Newcastle, WA