Stars of Fire
August 18, 2015
     Tonight, I climbed onto my roof and looked to the stars. A fresh breeze washed over me, chilling. Almost sweater worthy. The moon was eery yellow and lit up a stretch of lake lying in wait below. A party boat blasted music. Finally it fell quiet, leaving me in the silence the night deserved.
     What mesmerized me though, were the stars. Few, but there. Past the city lights. And bright moon. And airplanes.
     I used to want to be an astronaut, to see with my own eyes the worlds beyond ours. I used to want to be able to leave behind everything of significance. I used to want to leave.
     Tonight I catch a glimpse, sucking me into the eons of sky and drowning me in darkness. I am left crawling towards the specks of light, years and years away. It is so beautiful, and I feel so alone in the best kind of way, just me and my secret place. I wish I could catch the stars in a jar like fireflies. I wish I could dance between them freely, not chained to this dying earth forced to watch it drown and burn. Forced to drown and burn with it.
     Burning. Burning. Wax burns from 100 candles. A tribute to the lost stars. An attempt to replace them. They burn. She bought the first one for a friend. As a joke. A candle the shape of the green alien from Toy Story--her friend obsessed over Toy Story and made sure everyone knew it. The candle was supposed to be a holiday gift. She never gave it over. No, she fell in love with it, and never let it go. Now it is burning. Destroying itself as it does what is was created to do. Burn.
     Her whole collection burns. Wax books, flowers, classic shapes with pretty smells. The flaming lights flicker on her shadowed face, curiously reflecting their orange glow in her gaze. There is wax on her hands. The flames crackle and sway in the dark. The moon is hiding and the stars are gone. She misses them. When the wind tickles the flames just so, they light up the tears on her face.
     I am lying on my back and looking to the sky. I see hope, endless opportunity and the glittering annoyance of planes that I wish I could squash like the bugs they appear to be. I cannot see enough stars. I need to see future. I need hope. Opportunity. I need this world to continue, for I fear I will not make it to those beyond ours.
     I see one star, brighter than the five others I can glimpse. It is staring directly down at me. I like to think it sees me. I like to think it sees me for me, giving me courage and granting me tears. I like to think it is sending hope. I like to think it will help me.
     I cannot breathe as though I am being suffocated by eons of mistakes. I cannot breathe. Why must I suffer for the past?
     I never want to leave this moment. Goodbye. Goodnight. Please send help.
     She set the stars on fire originally. After she had collected hundreds of wax figurines, but before she lit those, she set the stars on fire. She looked to the sky and wondered what horrible disaster would finally wake up the humans to their devastating mistakes. So she set them aflame, and watched them burn.
     Now she is choking on her tears. Choking on her decisions. Choking on the smoke of hundreds of burning candles. The humans have not noticed the lack of stars. But she notices, and she mourns, and she chokes on her mourning, and the candles burn.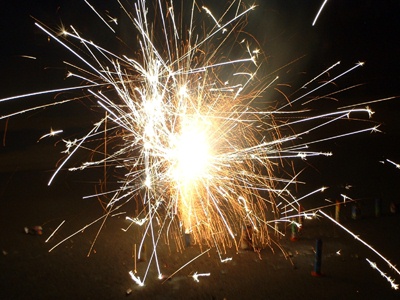 © Kevan B., Beaverton, OR