Old Doll
November 29, 2016
Welcome to my world that's painted with sadness. There's no one here, he left me all alone. My tag says Kailea, but I don't know who I really am. I stare blankly to a wall lined with pictures. A man with his creations. Pictures of all the dolls that have passed through those doors. All have passed… but me. I'm waiting silently for you father. I promise to be worthy of your love. I want to be with you to forget my sadness. Why were you so bitter, why did you leave Kailea alone.
This wall is rotting from all the years that have past. The shades of brown are taking over the pink and blue wallpaper. This place could use some renovation. Some of the pictures are tilted. I would fix them but these cold legs don't work anymore. Cold, a feeling I once had, but I've gotten use to it. Just as I've gotten use to the dirt in my hair, the crack on my head, the discolouration in my eyes. There's no light of sun, no sound at all. I never asked for this place I call home, but I will be staying here until the end.
A stranger, with a flower in her hand. Red as blood, and with petals soft like the hands that use to hold my small body. Her smile sends shivers down my cotton stuffed belly. Slowly she kneels down to me and touches my head. Her hands were warm and kind, something that I have longed for. I hope she will never leave me. I liked her at first sight. Whether that was because of her or the lack of seeing people, but that doesn't matter. Her hand slowly glides over my crack. She jumps back holding her finger and runs to another room. No please don't be scared of me, I'm a good girl, I just want to be loved as I once was! Although I wanted to scream to her to come back my mouth was stuck shut, forever silenced.
All my hope faded, I'm tired of being a dull doll in this world. I want to be taken away i don't need the dresses, nor the barretts, please just take me away from this wall. Take to a place that's warm with love.
The girl comes back with a man. A man that I recognized, tall with a five o'clock shadow. But the man i knew had brown hair, this man's hair was gray. But those eyes, green as the grass that has grown through the floor. It couldn't be him. He walks over to me with a smile. He reaches his hand out to my hair, looking me up and down, but pulls back. The girl wraps herself around his leg. Is he your knight in armour, would do anything for you. Then why does he resemble the man in the pictures, the man who gave me birth. My invisible tears fall to the ground. Why is this so heartbreaking? I have done anything wrong. Please before you go kiss me goodnight… but no kiss came and so I sat, 'til my anger turned into flames that reflected off my eyes. Welcome to my world that's now lying in ashes. There was no way for me to run away. I only wanted to be with my father, but little Kailea is melting in her void alone.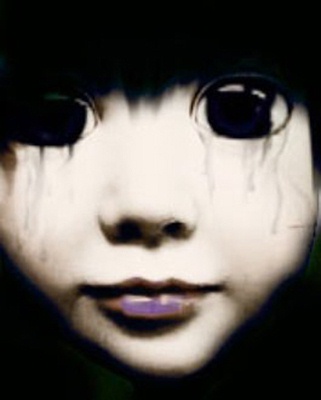 © Stephanie C., Gaithersburg, MD