Escaping to Wonderland
June 22, 2017
My name is Alice, I am broken inside and out. There is only one means of escape from this evil, I'm not sure if I'm ready for it. So forever on and on I continue, circling with nothing but my fate, like I'm riding on a carousel of agony. So slowly I forget who I am and my heart starts vanishing. Suddenly I see that I can't break free. So from time to time I let my mind go down the rabbit hole.
I'm slipping through the hole of a bright eternity with nothing but my pain and a paralyzing fear of my life. A white rabbit is waiting for me. Can you tell me who I am? Who I was? There's an uncertainty enveloping in my mind so I can't break free. I wish my reality was just a dream. Why can't wonderland be real? It wouldn't mean a thing if I tell Mother how I feel. She wouldn't believe what father has done to me. I'm tired of all the pain, all this misery inside, And i'm tired of all these bruises. I wish that I could go feel nothing but what I feel is right. He tells me what to say and he tells me where to go, and he pulls me out of my head. I wish I didn't care, but if I didn't care then my heart would never know how it feels to be free.

If I make another move there will be no more turning back cause everything will change and it all will turn to black. Will tomorrow ever come? Will I make it through the night? Will there ever be a place for the broken in the dark? I'm hurting and sad. Should I stay here in this awful life or should I go and live in wonderland? I've forgotten how to tell what is real, did I ever really know? I can't take another step, I've done everything I can. If I find a way to go, If I jump into this hole then everything will change and it all will fade to white.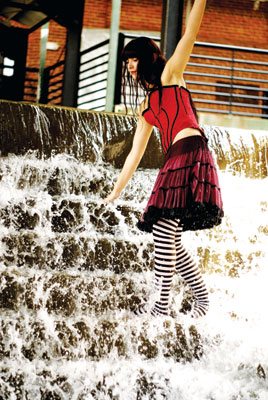 © Daniel H., Durham, NC