Projectile Motion
June 28, 2017
It was only a second story balcony.
Parents wouldn't pay for higher. Seems hotels want a premium for that ocean view; Donna and Jim wouldn't even spend on daycare.
Two eight-year-old eyes gazed intently at the metal railing - the door to the hallway locked automatically, but sliding glass on the other side of two queen beds and a TV: not so much.
Smooth legs bare from the knees down scraped against tree bark. Really, it almost reached - a bit high, a bit far. Nine once-white borrowed towels met their target in a vague mound, sailing like an avian flock post-collision with highrise windows. Shaking out his left arm, the next projectile took a deep breath.
Flailing limbs stuck out from a cotton T-shirt raining white sand. The humid air, once unmoving, became a rushing wind. He flew, along with the passing thought that maybe he could have just planted a wedge in the hallway door.
Soggy shoes landed first, and then the sunburned sweaty body that crumpled with a soft thud.
Again the air sat still.
Beep: a credit card machine, far away. Two stories up, on a balcony, the laundry pile rose and sank, rose and sank. Jim took a swig of his third craft beer, and a grinning face rose above the mountain of towels with the coming moon.
The boy admired his reflection in the tinted glass, noting the twigs in his unruly hair and the orange smear of swiped sherbert down his jaw; stood up, kicked off his sneakers, and tugged on the little metal handle.
The maid had locked the door.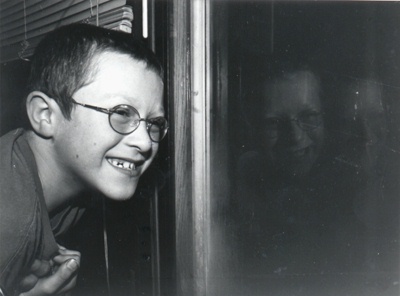 © Amanda McDermott, Sheds, NY