The Veteran
September 23, 2017
The door clicked quietly as the caretaker slipped in, placing the key inside her apron, careful not to disturb the old man sleeping across the room. He breathed heavily, his old body giving in to the weight of living such a long life. As the lady began to dust the worn nightstand, she flipped on the radio and turned it down so there was only a faint melody coming from the device. She shifted through the different stations, pausing on an old 70s radio station to listen for a bit.
"...But February made me shiver/ With every paper I'd deliver/ Bad news on the doorstep…"
Her fingers hovered over the dial.
"No," said an old, rusty voice from across the room. "No, don't change the music."
The young woman looked up. His breath became heavier as he grasped at life. She walked to him as he outstretched his hand and gripped it tightly.
"Would you like me to call-" she started.
"No, just stay a while." he replied. A sudden fit of coughing shook his frail frame. The old man took a second to compose himself. "I always knew smoking all those cigarettes would come back to haunt me."
He turned his head to the window, gazing at the orange sunset.
"Y' know, I never thought I'd make it to 30, let alone 84." He paused. "Well, most of me did," the man added, lifting his blanket to reveal a huge, jagged scar below his left knee where his leg should be. When he looked back at the woman, his eyes were glossy with tears.
The radio still played in the background.
"...Did you write the book of love/ And do you have faith in God above…"
"Have you ever wondered how you would die?" The sudden question from the old man startled the woman.
"No, not really," she responded tentatively.
"I never did, until I went to war. Enlisted as soon as I was old enough." He straightened himself in his recliner. "Stepped on a roadside bomb in Vietnam and nearly died. I'm lucky to have just lost m' leg."
The man began coughing again. He blinked his eyes wearily and squeezed the caretaker's hand.
"...I started singing bye, bye, Miss American Pie/ Drove my Chevy to the levee but the levee was dry…"
He thought for a second. "Yeah, before that I wanted to come home and play baseball. Being on that baseball diamond always gave me a thrill."
The caretaker sat in silence, unsure of what to say.
The worn old man smiled, his face wrinkling. "I thought I'd never be happy again, 'till I met my wife, God rest her soul. We'd a' been married 49 years this year."
"...Now for ten years we've been on our own/ And moss grows fat on a rollin' stone/ But that's not how it used to be…"
There was another fit of coughing. His breath became heavier.
"I met 'er in October. I remember 'cause the autumn leaves made her red hair stand out."
"...Helter skelter in a summer swelter/ The birds flew off with a fallout shelter…"
They sat in silence for a long time.
"...So come on, Jack be nimble, Jack be quick/ Jack Flash sat on a candlestick/ 'Cause fire is the devil's only friend…"
"I did some stuff I regret," he exhaled, "but I'd rather live with some regrets than a lot of 'what if's'."
The man clung to life by a thread. He gasped for air.
"I thought I'd go in a different way," he admitted.
"...Them good ole boys were drinking whiskey 'n rye/ And singin' this'll be the day that I die/ This'll be the day that I die…"
He smiled one last time.
"But I've had such a loud life, it's nice to have a quiet ending."
The old man let out his final breath.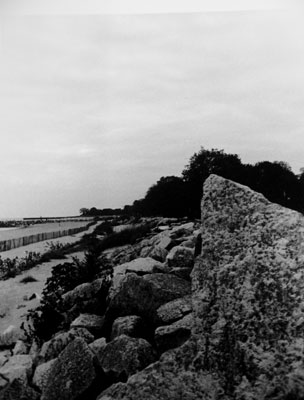 © Sean M., Apple Valley, MN