Monologue of a Four-Leaf Clover
December 1, 2017
You think I have magical powers.  I know by the way you yelped in delight when you spotted me in the lawn.  The way you combed your fingers through the tangled grass and gently plucked me from the dirt.  The way your face lit up when you kissed me, as if a drop of light had suddenly dripped from the sun and splattered on your skin. 

You held me in the soft palm of your hand as if I was a precious diamond and carried me into the crowded, steamy room that is your kitchen.  You laid me in a porcelain bowl and set me in the center of the island, so that you could keep an eye on me as you worked.

I watched you from my little throne as you unwrapped the papery onions, your swollen stomach pressed against the edge of the counter.  When you cut the onions open with your knife, the surface of my leaves burned like your eyes.  I saw the glassy tears trickle down your pink cheeks.  When you whispered to me, I wanted to cry too. 

You told me about the bundle growing in your belly.  About the little hands and toes and ears: disfigured by a mistake of nature. 
"But I won't cry anymore, little clover," you cooed to me, your eyes creasing with a smile.  "You are the answer to my prayers.  You're the lucky charm I have been looking for.  Now that I have you, everything will be all right." 

You believe that I have magical powers.  That is why you dropped me into the pot with the onions and carrots and potatoes.  That is why you took care to scoop me into your bowl at the table. 

Now I sit on your spoon and look up into your face—so warm and soft with life and expectation.  And I feel like I should tell you: I am not a four-leaf clover because I am magical, I am a four-leaf clover because I am malformed—I am a mistake of nature. 

You think that the magic will begin when I slide down your throat to join your baby.  But I tell you, I have already given you my gift.  I have taught you how to care for a four-leaf clover.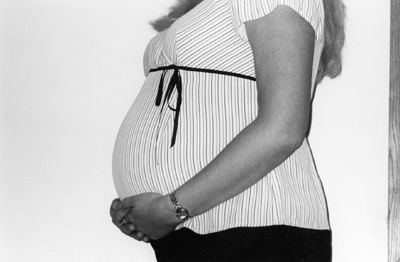 © Cathryn C. Pequannock, NJ