Can Anything Go Right?
April 8, 2009
I'm going to state this in simple English: I was having a bad day. My stomach was queasy. My friend was mad because I forgot to pay her back for the dollar I borrowed three weeks ago. I had to stay after school in detention with evil Mr. Chark for writing on the walls (which I didn't do). After my detention my mom was late picking me up so I was waiting outside in 40 degree, windy weather, and I had forgotten my coat so I was freezing my face off. I was starving, and I knew that I had about four hours of homework to do when I got home.

When my mom finally arrived thirty minutes late, she was in a bad mood. I did my mountain of homework, then I noticed that my little sister had spilled red nail polish on my bedspread and it was dried on. For dinner we had pork and spinach, two of my least favorite foods in the world. Then my dad yelled at me for yelling at my sister for spilling the nail polish. I stomped up to my room. When I slammed my door, a picture fell off the wall and the frame shattered into a bazillion pieces.

Later, before bed, I went to take a shower. My face cleanser was gone and there was only cold water because my mom had just turned on the washing machine. I got shampoo in my eye. Then in my room I discovered none of my nice pajamas were clean so I had to wear annoying, itchy ones. I petted my cat and she bit me. I got toothpaste in my hair. It took me an hour to fall asleep. Around 1am I woke up from a terrifying nightmare about being hanged.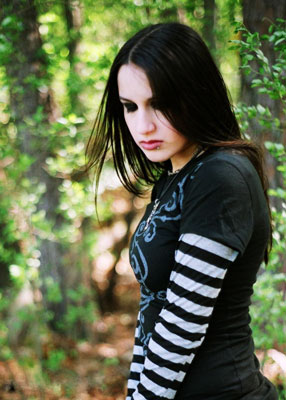 © Rebecca B., Marietta, GA