The End of the King
May 5, 2018
The man was ashamed. 
He stood there, at the edge of the tower, wind whipping back his graying curls. 
Closing his eyes, he let one solitary tear trickle down his face. 
He was a king who had every reason to be happy. Everything he could ever want and wish for was at his fingertips. One command issued from his lips and it would be so.  Everything he could want was there, except...
August, the man, the king, had once had a wife. The kindest and sweetest girl in the kingdom, she had softened his heart, opened his eyes, made him the man he was. And yet she was gone. Dead for eight years. And for the king, this was too much to bear. 
Arianna was the first thing he had learned to love. But now death had taken her. 
He took another step toward the edge. 
"Is this how you want to treat your family?!" A voice screamed in the back of his head. "What about your son, your daughter, don't you want you stay for them, for their sake?" 
August stopped, contemplating. The voice was right. He couldn't do this to them. His wife had died to deliver Azurite, and as for Ara, well Ara had done nothing to hurt a soul, and yet here he stood, threatening to bring their world crashing down. 
He breathed. No, he wouldn't, he couldn't. He would channel his strength from within, the strength he held when commanding armies, when he had saved his son's life. He was strong. He could remain. 
He tried to step back. But his body was still torn, hovering on the line between his kingdom and death's kingdom. 
August fell like a stone. He yelled to the heavens—No! This wasn't the way he wanted to go out! His body hit the rocky ground below, smashing like a melon. 
As his spirit rose into the air, above the bloodied ground, the last sound he heard was the strangled cry of grief that escaped his daughter's lips as she ran into the clearing. 
It was that single cry that crushed him. 
What had he done?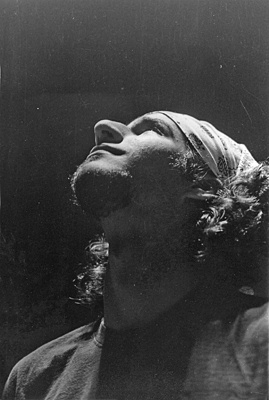 © Luke Z., Westport, MA