Blonde Gone Red
April 7, 2009
In the dark corner, wide, wet, blue eyed girls who views herself as nothing. Her names was Nancy and 18 in her last year of schooling. Every one told her how beautiful she was and how intelligent she was too. But somehow none of that was enough. Nancy even had a boyfriend , his name was Laurence and he was an athlete with a body to make the girls drool. Girl after girl would line up to date him but he was dedicated to Nancy and only Nancy. But still this was not enough for her.

In her room Nancy had a full body mirror that she starred into every day. When people looked at her they saw perfection but as Nancy starred into the mirror every night all she saw was the ugliness that she thought she was. Every night she would take a safety pin and place it against her toned, olive, tanned, skin and press down. Slowly she would drag the pin across her stomach slowly allowing her skin to rip, listening to it as if it were mere paper. The thin crimson red blood that would flow through would bring a slight smile upon Nancy's face as she thought of her blood as the impurity and ugliness that was inside her finally escaping. It became that it was the only thing that could bring Nancy true happiness, and to make sure she could continue she told no one of what she did.

The worst night of all was the night in which Laurence broke her heart. He broke up with her for a girl that had a boyfriend herself but pulled Laurence in by what she did and her beautiful looks. That night when Nancy went to the mirror and shredded open her skin with the pin it was not enough. So later that night about two hours later, when her parents were fast asleep within their room, Nancy traveled ghost like out to the kitchen. There, from within the knife drawer she removed a butchers knife shiny with a sharp blade. She placed this under her shirt and returned to her room as quite as before. When she returned to her room she returned to the mirror. Her eyes were watering up as she pulled out her Dare phone went to Laurence and sent him a text message saying "I'm sorry.". With this Nancy dropped the phone and replaced it with the light, shinny butcher knife.

She looked down at the knife placed in her right hand as she lifted her shirt with her left. More tears began to swell within her blue eyes as she pressed sharply down at the knife slowly and deeply dragging the knife across her stomach as her crimson tainted blood poured outward from within its holding place. Nancy bit her lip in an attempt to quite from screaming from the immense pain she created but she couldn't help[ but allow a few squeals of pain to seep through. When she was done Nancy dropped to her knees and dropped the knife beside her. Nancy looked at her phone and saw that Laurence had answered but she did not feel like grabbing her know red dotted phone. Instead Nancy crawled to the corner of her dark lonely room pulled her knees up to her chest though the pain was almost to unbearable and wept. She wept till her eyes turned red and all her crimson blood had escaped from her body. When Nancy's parents found her the next morning and called the cops all the papers red "Perfect 18 year old Nancy, blond haired went red last night in a successful attempt to rid herself from this world."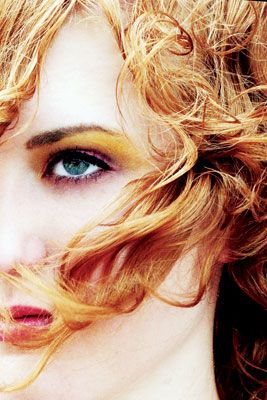 © Rebecca B., Marietta, GA