Like A Painting
September 21, 2010
Her musical laughter filled the air as she spun around, breathing in the wonderful landscape. Her emerald eyes darted back and forth, taking in every last detail. When they found their way to me, my heart skipped a beat. Her hair, the color of fire, danced in the wind as she ran into my arms.

"Do you like it here?" I breathed into her ear.

"Like it? Sev, I love it!" She broke our embrace to spin around more. The bottom of her lacy dress lightly kissed the grass with each step she took. It was like being inside a painting; a perfect, beautiful painting.

"Come on," I reached for her hand, "There's more."

Laughing, she let me lead her higher up the hill, until we reached the very top.

"Close your eyes," I whispered. She obliged, and I slowly reached for her other hand. Her porcelain face was like a that of a doll--so perfect, so beautiful. I tilted my face to hers for a long, magical kiss. I felt her sweet lips form a smile beneath mine as she kissed me back. My insides were turning cartwheels, and I thought to myself, "This is it. This is how I want to spend my life--here, with Lily." She untwined her fingers from mine and instead wrapped her arms around me. Her embrace felt better than anything else ever had. It felt natural, wonderful--right. Like our reason for living was each other. I wanted to stay, my arms wrapped around her, forever. Our souls merged as she kissed me passionately. I felt as if nothing could ever go wrong--and as long as she remained in my arms, nothing could.

I reluctantly removed my lips from hers to whisper in her ear, "Turn around." Her eyes glistened as she smiled at me, and slowly turned around. I wrapped my arms around her waist and waited for her reaction to the miraculous new view. Her intake of breath was barely audible, but I had been waiting for it. Speechless by the various aspects, she let her hand rest on mine on her waist. Her breathing slowed as she took it all in. The mountains cascading in the distance; the river winding in and out; the birds, whose song made the moment even more prefect. If the view from the side of the hill was beautiful, this higher landscape was ten times that.

Her head rested on my shoulder. I could feel her heart beating, and it felt wonderful. Ironically enough, her hair released the fresh scent of water lilies. I took a deep breath, and let her natural perfume fill my lungs. She tilted her head to flash me a mischievous smile, then broke our embrace to take off running toward the opposite side of the hill.

"Hello!" She shouted at the birds, who flew in circles above our heads. I caught up with her as her musical laughter filled the warm air. "Hello!" She shouted even louder.

"Hello, Hello, Hello," The echo of her words danced in the breeze. She laughed again, the sound sending a wonderful set of chills down my spine.

"Come on!" She reached for my hand, and we took off sprinting, shouting out all the way. Our words filled the summer air, creating a symphony with the warm breeze in the grass. We tumbled down the hill, laughing and screaming. At the bottom, we collapsed, exhaustedly trying to catch our breath.

"It's beautiful," she breathed. "Like a painting. I'm afraid to blink--afraid it might go away."

"It's beautiful, just like you." I whispered as I lay down in the golden grass, "And it won't go away--it's real. Just like you, just like me. Just like us. It's real, and beautiful. And it's all ours. Forever."

She leaned back and let her head rest against my stomach.
"Forever," she echoed.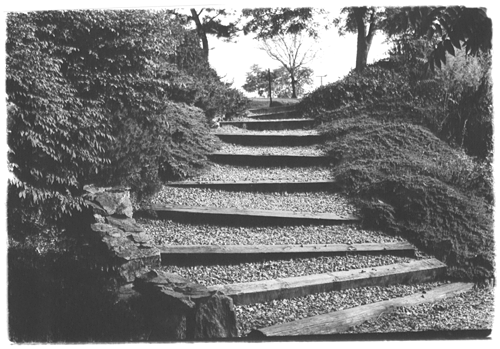 © Tracy C., Westport, CT