If the Shoe had Fit
February 3, 2015
Cinderella hid in the corner of the room, waiting anxiously as the Prince brought the glass slipper that she had worn the night before to the bony feet of her stepsister. She wanted desperately to run out and tell him that she was the one he was looking for. However, her stepmother would kill her at best. She would have to be content knowing that no other girl could fit the shoes the kind fairy godmother had made for her. Perhaps she would be able to muster up her courage and try on the shoe herself.

"I-it fits!" the prince exclaimed.

"No-"Cinderella gasped, and quickly covered her mouth in fear of being discovered.

The others were too busy fawning of her stepsister to pay attention though. Her stepsister smiled victoriously at the shiny glass slipper beneath her. Cinderella's younger stepsister bit her lip bitterly in jealousy. Her stepmother looked as if her puppy had won the dog show.

"Well," coughed the prince, aware of the intense exchange of looks the three women surrounding him were giving, "I would be honored if you would perhaps accept my invitation to have dinner at the palace and meet my parents."

"Why," the stepmother jumped in, "We would love to meet the King and Queen!"

"How could this be!" Cinderella thought. "Can't he tell that she isn't the same girl as the one with him yesterday?"

Cinderella, in the emotional and frustrated state that she was in, decided to do something she would normally not. "I would like to go as well!"

Four pairs of eyes stared at her, all in shock. Her stepmother glared threateningly at her, but she was to go if the whole family was to go, and Cinderella had already formed a plan to make the prince hers.

That night, the four women stepped into their carriage and rode to the castle. While the Cinderella's stepsisters giggled over who they would meet and how they would act, Cinderella's stepmother dug her long, pointy nails into Cinderella's arm.
"Cinder-ella..." her stepmother growled, "I did not get you invited so you could steal this glorious moment from your sister. Remember, you are merely a servant, who, because of the kind, dear heart of my daughter, is visiting the castle."

Cinderella nodded meekly, but her mind was still racing, for her plan was soon to be put in action...

"Welcome! Welcome!" the king bolstered as the guests settled into their seats at the dinner table, "I am delighted to see such beautiful ladies visit my son."

Cinderella was asked to stand with the other servants. Quietly, she slipped out of the room and wandered till she found the nearest washroom. She took out from underneath her long plain skirt the altered wedding dress of her mother, and put it on. With the slight changes Cinderella had made to the length of one side, you could clearly see one glass slipper. She twisted her hairstyle in an effort to mimic the hairdo her fairy godmother had given her before, but had no luck, so instead she wore her hair down. Cinderella stood outside the dining room door, breathing a few breaths of preparation. Now it was time for her grand entrance.

"So sorry for being late!" she announced to the room, "I'm afraid I got lost looking for the restroom." Slowly, she glided to where the prince, who was standing up in shock, for he recognized the glass slippers immediately. "Dear Prince Charming," Cinderella said as she curtsied gracefully, "Do you remember me?"

"Cinderella what are you doing?!" her stepmother cried in fury, "Get-"

"Sorry, my dear guests, but I need to be excused for a moment." the prince said, not taking his eyes off Cinderella's shoes, "I must speak to this lady before me."

The two left the dining hall and took a stroll in the garden.

"Are you the girl I met at the ball? Or did you just wear very similar glass slippers?" the prince asked, coming to a halt.

"Is that all you are interested in, dear prince?" Cinderella asked, slightly annoyed by the response she had gotten, "Do you not recognize me beyond the glass slippers?"

"W-well, you do have beautiful eyes..."

Cinderella sighed. What had she seen in this man before?
"What about your dreams that you spoke of yesterday? Surely a part of that conversation must have been more memorable than a pair of shoes!"

"Dreams?" the Prince asked, as if trying to recall a distant memory. "Ah, that was just moonshine. Plus, isn't it every girl's dream to marry a prince and live happily ever --"

Cinderella stopped him. "Thank you my prince, for the nice walk, and I wish you a great future with my stepsister." She curtsied and ran out of the garden, out of the palace gates, and back home. This time she made sure to keep both glass slippers on.

She packed up her belongs and made a decision even more drastic than her plan to steal back the prince. She was going to leave her stepmother, stepsisters, and the cruel, dirty life she lived, and become independent. The prince's response made her realize that she didn't need a hollow-minded, shoe-obsessed man creating her future for her, she would take action and write her own story. It might not end with "happily ever after", but it would be a change for the better compared to just waiting back at home for another fairy godmother. After all, magic is temporary. What Cinderella needed was action. And that would start by pawning off a glass slipper.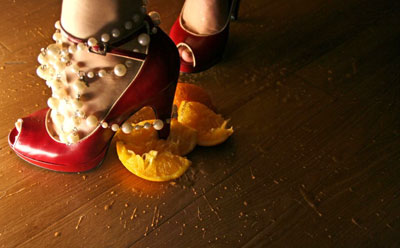 © Amber L., Carpinteria, CA