Last Night
March 22, 2016
As the clock struck twelve, she dashed down the steps, her dress already turning into a mess. She wanted a good ending. Running away, she thought of what could happen tomorrow night. The prince was after her. He wanted to know who she was. She didn't know who he was either. But he didn't know her plans. She doesn't want to do it, but she didn't have a choice. She hopped into the carriage and away she went, taking her guilt with her.
The next night was already here, and she didn't want to go. She knew what would happen, and she still doesn't have a chance to stop it. Plus, she didn't even know the prince, since his identity was also hidden behind a mask. She carried the blade strapped to her leg to the ballroom. The prince saw her, and smiled. He took her hand and she danced to the violins. She forgot her mission, what she was supposed to do. The voices soon started to call to her. And then it struck her. It was too late. The man was controlling her actions, and as they danced, she pulled out the blade. She swiftly swung her arm, and hit him directly in the stomach. He was shocked, as he fell to the ground, clutching his stomach. He saw what she did, and yet she was crying. She knew this was going to happen. The man told her that for a certain man's life, he would give her the best night of her life. She didn't know he meant this. How could he have tricked her? Her tears wouldn't stop, as she continued to swing her arm. The prince was on the urge of death and yet, he smiled.
"After all I have done, you still smile?" She yelled, sobbing.
The prince understood it now. She wasn't doing it out of her will. She was being controlled.
The girl fell to knees, still holding the blade.
As he was dieing, the prince removed his mask.
She recognised his face, as the man she loved.
With his last breath, he smiled, and closed his eyes.
She threw her head back and screeched.
And with that, the clock struck twelve.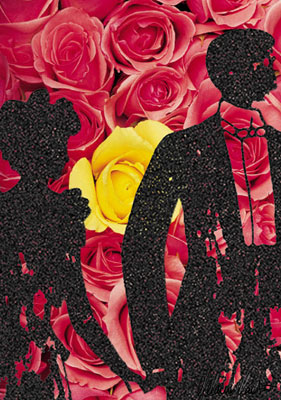 © Melanie M., Hendersonville, TN