A Melancholy Melody
August 9, 2009
The little girl walked along the busy city street. Funny how a crowd could make one feel so alone. She put one foot directly in front of the other, like walking on a tightrope, a cherry blow pop in one hand. She looked around and up and down, eyes round and shining. They were blue, her eyes, putting the smoggy sky above to shame. She hummed a little tune to herself, a sad and melancholy melody that not at all matched her bright pink sundress and bouncy bright blonde hair. She looked young and fresh, with eyes that reflected the sadness of the world around her. Or was the sadness coming from inside?

She was walking alone, but no one seemed to pay attention to the lonely little girl. Many oddities were seen stalking the streets of the Big Apple, so children wandering around without a parent were the least of the their worries.

The girl stopped as the came to a large pile of wreckage, steel scaffoldings and stone stacked haphazardly in giant mounds that took up an entire city block. She looked up at the flag, waving proudly from the tallest pile, her strangely reflective eyes capturing the bright red whites and blues of the stars and stripes.

She closed her eyes and her eyebrows and nose scrunched up, like she was thinking very hard, both hands clutching the lollipop. When her eyes opened again her shoulders drooped and a single teardrop smacked the pavement beneath her feet, leaving a salty wet streak down her cheek. She began to hum, the same sad, sweet melody as before, and walked away.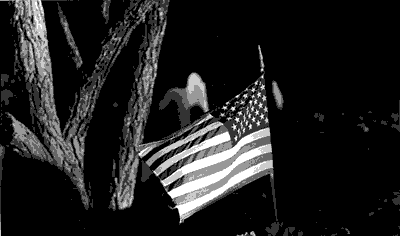 © Kimberly R., Marblehead, MA