Poor Molly
September 18, 2009
The strong November wind blew up dust from the road and chilled 12-year-old Molly's legs as she walked. She pulled her shawl more tightly around her arms and blew on her freezing hands. The walk from the farm to Uncle Henry and Aunt Ingrid's house was a long one. Molly was already tired from a day of sewing, sweeping, and cooking in the farmhouse, and this trip home exhausted her every day except Sunday.

Molly's parents had died when she was seven, due to scarlet fever. So now Molly had to live with her aunt and uncle, who were strict, impoverished, and struggling to take care of their own children, Jack and Rebecca, never mind an orphan. Molly had been working at the farm for a year. She had never attended school, only learned a bit of reading and arithmetic at home. Uncle Henry worked long hours at a mill. Rebecca sewed for a tailor. Jack worked hard at the same farm as Molly.

The family was not happy by any means. Everyone was grumpy; grumpy from work, grumpy from hunger, grumpy from the cold. But then again, what did they have to be happy about? I suppose the fact that they were alive, but not much else. The children were afraid of their harsh parents/adoptive parents. They worked more than a child should have to. They were sick most of the year.

On this particular fall day, Molly was indeed sick with a cold. Her nose was stuffy, her throat scratchy. She had a cough, as well. The bitter cold matched with her thin frock was not helping. Little Molly arrived at her drafty house (or shack, as you may think of it). She entered into the single room. The logs were ablaze in the fireplace, yet it was still chilly. Aunt Ingrid was very grouchy.

"Finally, you're home!" she said to Molly. "Hurry up and help me cut up potatoes."

Bread, potatoes, and soup were mostly all that the family ate. It was okay, but not much variety. It certainly was better than starving.

Molly grabbed a knife and a spud quickly and began to peel. Her numb hands took forever.

"Will you get on with it?!" Aunt Ingrid shouted. "If you don't get this dinner moving, you won't have dinner!"

Molly promptly pushed away a tear and started to strip the potatoes as fast as she could. In fear, Jack and Rebecca tended to their chores in as orderly a fashion as possible. The supper of fried potatoes was ready on time, just as Uncle Henry returned from work.

The melancholy family sat at the pathetic, lopsided dinner table, prayed, and ate silently. No one dared say anything to make Henry or Ingrid mad. Molly's face was pale from the chill. She dreamed of wearing a warm fur coat, thick woolen stockings, and a fleece hat.

Darkness came early now that it was late autumn, so bedtime came earlier. It seemed that just because it was aphotic outside, everyone got tired sooner in the evening. The tiny home had two full beds and one small cot. Rebecca and Molly shared a full bed. They quite liked sharing, because they could keep eachother warm. Molly changed into her thin nightdress and crawled under the old quilt. All she did was shiver for awhile. Her spot took a long time to heat up. Rebecca climbed into bed. The girls whispered for a bit until Aunt Ingrid screamed at them to be quiet.

Molly fell asleep with the awful thought of having to go through another cold, hard day tomorrow.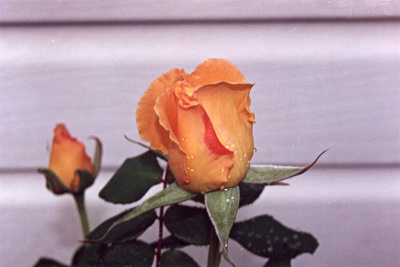 © Jamie U., West Hempstead, NY