Chanya's Decision
September 23, 2009
Chanya awoke to the sound of her mother singing along with the radio. She recognized the melody right away, it was a popular one that kids at school sang as they played, and she started humming quietly even before she opened her eyes. She rolled over and glanced across the room to where her brother lay in bed. He was still asleep, of course, his head stuffed so far under his tattered blanket Chanya couldn't even see his skinny, dark neck. Lazy, she thought. He had better not make us late for school again.

The song ended and the announcer's voice boomed through the room. "Jambo Nairobi!" He called cheerfully. "Harabi? How are you my friends?" It's a bright Thursday morning here in our beautiful city!"

"Jambo Mr. Announcer." Chanya whispered. She woke up every morning to his show and he felt like an old friend. She swung her legs over the side of the bed and felt the soles of her feet touch the dirt floor. She stood up, stretched and wiped the sleep from her eyes.

"Chanya, you are awake?" Her mother stopped singing as she caught sight of her daughter standing. "Please pick your brother up, here is his food. Can you feed him?"

Chanya's little brother sat in the swept dirt with an old spoon in his hand. He banged it lightly against the floor and crowed. Chanya scooped him up and pressed her nose into his warm, soft neck. He giggled and pulled her hair. She sat at the table, plopped him in her lap and began spooning the mashed bananas into his mouth.

"Mama, did you wash my school uniform last night?"

"Yes, and it wasn't easy. There was a long line at the pump. I had to wait until everyone else had gotten their water and gone to bed. I didn't want them to see your clothes and steal them from me. It's hanging there." She gestured to a dim corner of the shack where Chanya's school uniform was suspended from a short length of twine strung between two corners of the room. Chanya smiled at the sight of the dark red skirt, its matching sweater, and the bright white blouse. They were the best clothes she had. They were the only clothes she had, other than two tee shirts and a pair of faded purple shorts.

"Asante sana, mama."

"You're welcome, but I'm not sure if I will be able to wash it again next weekend. Teresia is raising the price of water. She is a thief. She knows we don't have more money to pay her. Your father works so hard and still his boss doesn't give him a raise. He left before the sun was even up to walk to work. He said it will take him two hours but he will save ten shillings."

Chanya was silent. What was there to say? Her father worked hard. There was never enough money. Her mother couldn't work and take care of her baby brother at the same time.

"And Karani, I've never seen a lazier boy. Even now he sleeps!" She walked to the low cot where Karani's still body lay and bent over, shaking him fiercely. "Get up lazy boy. You're going to be late for school! Your teacher will whip you."

Chanya pushed one last bite of banana through the baby's lips and wiped his mouth with a square of cloth. She put him back on the floor and walked to the corner of the room. "Karani," she commanded, knowing he was awake, "keep your eyes closed for two minutes."
She slipped her clothes off and quickly replaced them with the clean school uniform. Then she walked over to Karani's cot. "I will wait outside for exactly three minutes. If you aren't out by then, I'm going without you."

She kissed her mother good bye, grabbed three battered textbooks stacked neatly at the foot of her cot, and pushed open the corrugated metal door.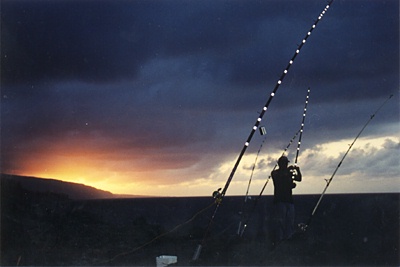 © Jeffrey J., Honokka, HI