The German Shepherd's Side of the Story
September 15, 2010
My name is Blondi, and I am the companion of a man that some love, most hate, and all fear. I should probably explain what I mean by this. I remember the first day that I saw my master. I was a mere puppy, and he came to see me, to see if I would be a good companion. Initially, he scared me, because I could tell from his demeanor that he was a very unstable man. However, when he took me, my new master made me feel at home, and showed me kindness. I learned to live with him.


Over the years, we grew inseparable. I stayed close by him because I valued his strong leadership, as did many others of his own kind. He treated me as he never treated anyone of his kind, though. When his alpha female did not like me, he made her become accustomed to me. I think that he found peace with me that he could not find with others. Several times he had me pose with him for a picture, to show his people that he was a benovolent ruler to all creatures. Yet I knew that at times he could be very angry, punishing those who displeased him harshly. We did not want to cross him.


Recently, my master has been more disturbed than is usual, even for him. A couple months ago, he and all that he holds dear have been moved underground. Since I have been determined so valuable as to stay with him, I try to please my master always. A month ago, I gave birth to a litter of puppies from the companion dog of one of his friends. He delighted in that for about an hour, then resumed pacing anxiously. I fear his instability of mind may destroy us all.


Right now, they want me to take some sort of medicine. When will they learn that it is easier to open the pill's contents into my food than to shove it down my throat? My trainer comes toward me and forces my mouth open. Something is wrong in his eyes. Master is in the other room, watching through the doorway. As I swallow the pill, he turns away. Then there is darkness.

Hitler now knew that the pills were effective. He would have to take them next, rather than be captured.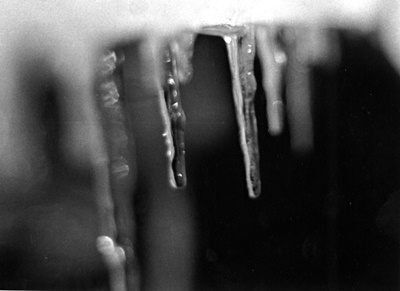 © Lindsey D., Marblehead, MA