In the Corners of Your Mind
September 2, 2011
He had sat, only minutes before, at the writing desk. Ideas swirled like wind in his head, crashing and multiplying. His brain, alive with memories and with his own genius, whimpered for peace. He could not satisfy it. He was a prisoner inside his own mind. Insects buzzed happily in his ears, adding to the roaring. He began to write.


Thomas gazed at the page; now he had begun, he did not know what to do. His hands were so cold. Storms raged in his fragile heart. Sorrow and loss ached there. The Father he had never known, the Mother he had never loved. The friends he never bothered to make. Grief shot through him like physical pain. His conscience and his reason fought in his soul. He was losing hold on reality's wall.


The oak chest stood by his bed. He staggered over to it, longing to know what he had been given, wishing it could be a means for survival. He knelt on the cold stone floor. It contained only old papers. He read them frantically, looking desperately for an answer. He found none, and, in the fire of his irrepressible anger, he tore them up and threw fistfuls of paper onto the floor.


Anger burned his body, searing at the end of ever nerve. They had given him… nothing. Only old, useless, worthless paper. He could not sell it, could not eat it, could not read it and use his mind. He could not even burn it. It would not light in his fireplace. It was so cold in his attic. His fingers were numb and his nose was blue, the only splash of colour on his pale face.


Hunger made his stomach churn, thirst burnt his throat and the dust in the air filled his lungs. He was trapped in his world, like he had been trapped in imaginary ones as a child. But this was real. This was too painful. There was only one escape.

Lightening flashed past the closed window and lit up Thomas' paper. He jumped, startled. There was life outside the room. He had heard nothing from the people downstairs for hours. It was long past midnight, and he could not sleep. Exhaustion reared inside him like a lion, tossing its head and roaring. He could not pacify it.


Jaded, he continued to write. He threw away pages as he found his work getting worse and worse. He couldn't even do that any more. In the depths of despair, he wrapped himself up in a blanket and waited for the sun to rise.


The window was cracked. Some boys had thrown rocks at it the week before. He could not afford for it to be repaired. Cold air rushed in with the wind. Dawn was coming.


He twisted reality in his tortured brain, revisiting his childhood. He'd been lonely. He'd written for hours at a time and read hundreds of books. He didn't play. Playing was for the normal children. He knew he was more than that. Even from the start. His never really paid attention to real life, preferring imaginary kingdoms where he was the hero and the world was just and truthful. He would come back to reality and cry, surrounded by deceit and pain and confined to the earth.


His friends had been real to him. Books and stories provided him with adventures and fun. He had run with King Arthur, Gulliver and Roger Byam, sharing stories and living free. He had had a less than basic education and learned to read from the Bible. His Mother knew he was clever from his early childhood. He wrote poetry aged eight. He had been as happy as other children. No longer.



Fear gripped his heart. There was no one to remember. He was completely alone. Soon he would not even be that. Reality was pushing him towards the edge.

It was cold. Thomas was uncomfortable. He opened the window. He needed to be cold. It would make him numb. Maybe it would hurt less.


Silence. It was still early. The sun hadn't come fully above the horizon, but peaked out over feathery clouds. Cold. Silent. Grey. Alone. The candle on his desk burned out.


It was impossible to control. The rising of the sun. Thomas tried to think of nothing else, tried to concentrate his mind on it. Trying to stop it from rising above the sky. He needed more time.


Exhaustion took him over. His eyelids were heavy. His head would not stay upright. He needed it to end. But also, to last forever.

He stood up and went, slowly to his desk. He wrote a sentence on a scrap of paper:
They that wait upon the Lord shall renew their strength; they shall mount up with wings as eagles; they shall run, and not be weary; they shall walk, and not faint.

It was nearly morning. The time had come.


The sun broke across the window, illuminating the body of a young man. A bottle had dropped from his hand as he slipped into the abyss. He had not taken his shoes off. The plant grew on the sill. The only thing still breathing.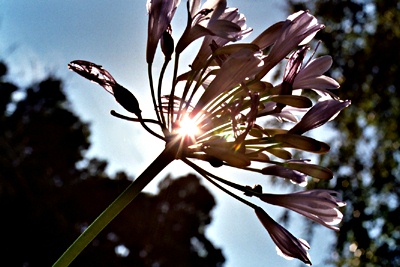 © Brandon W., Redwood City, CA