Ripper
February 11, 2015
I approach her slowly, letting my money rattle around quietly in my pocket. My shoes make the now-familiar clicking sound against the empty London alleyway stones as I step forward.
"How much have you got, mister?" she asks, painted face bright with the blush of a thousand pinches and presses, hair piled on top of her head in a bun already falling apart from the night's activities.
"What will you take?" My palm dips into my pocket, and I let some silver flash into her desperate eyes. The taunt of money makes her gaze grow in intensity, and another brown curl falls from the mess on her head.
"A pound," she says, licking her lips in either nervousness or anticipation.
I agree with a short nod of my head, letting my dark hair sway about my face. I won't be paying tonight, either way.
"Then, mister-"
"You may call me Jack," I say, stopping in front of her and touching her ruddy chin gently. This one's complexion is far from fair, marked by blemishes and blush. But the face... No, the face won't matter greatly; I may leave it. I force myself to lean down slightly to her height. She stands around five feet, and I at six, making this the perfect cover. My lips are just above hers, and if she tilts her head upward, the neck will be exposed, and-
The creature closes her eyes and touches my face. I do my best not to shudder as she presses her cold lips to mine hotly, nimble fingers already searching my pockets for the glint of coins.
I toss aside her hand and grab the knife hidden in my left pocket, sliding it upwards and into the woman's throat almost effortlessly, making two thin cuts just on the left side.
She doesn't even scream, simply dripping into my arms like a rag doll, letting me thrust her body against the dark brown fence. This one is certainly less messy than the last, but I am not finished yet. I lay her down and cut into the rough fabric of her dress, humming quietly to myself.
My hair falls into my face more than once as I work, and I toss it back resolutely, hiding it under my hat and flipping the bills so they face outward correctly. The bags under my eyes are illuminated in the fresh light spreading from the east. It must be almost six in the morning by now, and I barely have the front of the dress off.
Reaching into my pocket, I pull out the scalpel and clean off any remaining blood, cutting into her stomach like paper. My eyes sweep her insides quickly, and I begin to sever the uterus from the organs around it. My fingers are almost covered in blood, and I frown at the sight. Dirt, grime, filth... Disgusting.
Straightening, I wipe my hands on my dark jacket and shove the uterus into my pocket. Then I pull out my hand again and slide it against her still-warm skin, quietly removing the brass rings from her undeserving fingers, while my other hand forages for coins somewhere on my person.
"Shall two farthings be enough, my lady?" I ask mockingly, throwing the money at her. Her eyes are closed, and she gives no answer, looking less and less like a woman of the night as the light of the day grows.
Good morning, London.
Good night, Jack.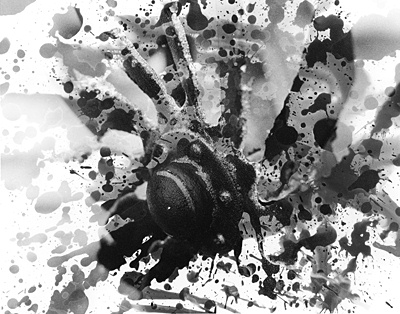 © Dana C., W. Lafayette, IN