Journal Of An Immigrant
November 18, 2015
The following is an account, found in a journal, of a Finnish immigrant that came to America. For easier reading, this journal has been translated to English. Because of the lack of proper care, some of the journal entries have been lost. This journal is the property of Päivä Lehtonen.
May 14, 1870 – 5:00 a.m.
Hallå, my name is Päivä Lehtonen. Today I have set out on a journey. A journey to a free country, a country full of opurtinuity for me to be equal. I am sailing to America, the land of the free. Many of my friends criticize me for leaving for a country I know nothing about with no one I know, but I am determined to be free of my poverty-stricken state that I am living in right now. My boat leaves in three hours, and I have not gotten any sleep because of my excitement and nervousness of the task ahead. I am going to finish packing, goodbye for now.
May 14, 1870 – 8:00 a.m.
Well, we just got off in the water. The captain said it should take four fortnights to get to America, if everything goes to plan. Hopefully it does, we are one of the first ships to leave for America. There are not many of my people on this ship; however, there are a lot of French, British and Germans. I am going to make friends with the British; I hear they speak the same language in America. That may be helpful.
June 13, 1870 – 12:00 a.m.
Oh, it hurts so much. I am seasick. And it hurts so much. I haven't eaten in 2 days, and I have lost of weight. Everyone is seasick now; I guess we haven't gotten our sea legs yet. We still have a month left of our journey. I really hope these storms soon; they tend to churn up more than the ocean waves. I'm going to go to bed now.
July 1, 1870 – 8:00 a.m.
My English has been improving since I have made friends with the British people. Elizabeth is one of my friends who have been helping me learn English. I also help her learn Finnish. She loves learning different languages; she is also learning German. I have learned how to say my name, ask for help, ask for the restroom, tell someone I am hungry, and the colors of the rainbow. English is really easy to learn.
July 17, 1870 – 3:05 p.m.
We have made it to America!! The Statue of Liberty is beautiful, it brings tears to all of or eyes. I am finally free! I am staying on the boat as the first and second classes are let off. I am hoping that I can get off of this boat soon so I can start my new life in America.
July 21, 1870 – 11:30 a.m.
We are still on the boat, though many have left. We have to go through customs and I am afraid that I will get deported. Maybe this will all be over soon. I will write again when I get across.
July 30, 1870 – 8:08 p.m.
I am sorry it took so long… I have just gotten through customs. And it was sure a trip. I saw a lot of people get the dreaded chalk mark, from what I can tell, no one knows what it means. From what I can understand, it just is to have them further inspected, but I don't know for sure. When I got to the last station, they asked me if I had any family here. When I started to stutter, my friend, Elizabeth came up to me and acted as my Aunt. After we got through the gates, she told me that if she had not helped I wouldn't have gotten through. Thank the Lord for Elizabeth. As we departed, she told me if I needed anything, she was in New Jersey. I thanked her and continued to walk down the stairs. I saw this pole, everyone was kissing it, and even though it was extremely unsanitary, I kissed it too. "Finally," I say proudly. I decide to stay in New York, because even though I know Elizabeth, I don't know where New Jersey is. I thought America was just New York.
August 27, 1870 – 5:24 p.m.
I've heard about this "prostitution" that a lot of the immigrants are doing. I don't think that it is a right thing to do, but I mean we are all so desperate lately. I see all the prostitutes around the bars and things; I tend not to beg in those areas in fear of being one of them.
August 29, 1870 – 7:12 p.m.
Ever since I have been begging at the food store in town, there has been a really handsome man that hands me ten cents every two weeks. He stops by and gives me a fiery puppy every now and then, but I don't know his name yet. Next time he comes, I will ask his name.
August 31, 1870 – 9:47 p.m.
He stopped by again today, with a hot dog, which I now learned it was called, and 15 cents! I asked his name, but he just nodded at me and said, "It's a sunny day isn't it?" He left without another word. He is very attractive and I find myself counting the days until he comes back.
September 1, 1870 - 8:41 p.m.
I have been saving my money and I bought the handsome man a hot dog. He came by today and saw me with the hot dog and smiled. I hand it to him, and say "thank you." At first he refused it, but eventually he took a bite. "Roger," he said with a twinkle in his eye. I finally knew the handsome man's name. Roger. I feel happy in my gut and I smile at him. Without any other word, he leaves.
September 2, 1870 – 6:23 p.m.
I am glad that I came to America. I found Roger, whom I think I love, and I found out that hot dogs are really delicious. Roger has been stopping by almost every day now when the sun is right behind the post office. He sits down next to me now and asks me questions about my home. "America is home," I say. He calls me Ms. Lehtonen now. I call him Roger.
September 11, 1870 – 3:00 a.m.
Roger hasn't been by in a couple of days. I am worried about him. Maybe he will stop by in a couple of days… Hopefully…
September 21, 1870 – 4:00 a.m.
He still hasn't been by yet… I am not wondering if I will ever see him again. I think I will try to find Elizabeth, maybe she knows where Roger is…
September 30, 1870 – 6:00 a.m.
What a fool! How could I have been so ignorant? To believe that Roger could have ever loved a poor, stupid immigrant like me. I am done with my fantasies. I am leaving now for New Jersey. I have saved up enough money now to take a streetcar to the bus. I am tired of being used. Stupid Roger and his girlfriend… Stupid me…
*Pieces of the journal are torn out here
October 15, 1870 – 10:00 p.m.
Times are tough. I am writing this as I wait for the streetcar. It has been raining for the last week. The fall bitter cold hasn't helped much either. My clothes are very torn, since I do not have any income except for begging at this point. I have been coughing for the last four days and I am hoping I get over it without having to pay any medical bills. There is this man who keeps staring at me in an extremely vulgar manner. He makes me extremely uncomfortable. I should probably just wait until tomorrow for *
*This part of the journal has water damage 
October 16, 1870 – 2:13 a.m.
Oh, Lord, why have you forsaken me? Last night as I got up to leave, the man started running after me. I became weak; I tripped and dropped my journal in water. I scrambled to get up…it was too late… he caught me. I… I felt so helpless… I need to go now. I need to think.
October 28, 1870 – 8:27 p.m.
My cough hasn't gotten any better and I feel weak… I have been tired and not been able to get out of the abandoned house I am living in now… I feel light headed and my chest hurts… my clothes do not cover my protruding bones any more… why did I come to the Land of the Free, just to be condemned? My life is over. Elizabeth, thank you for teaching me the language of your people. Roger, thank you for breaking my fragile heart. Random man, thank you for making me feel even more hopeless. Lord, thank you for taking my last breath. Goodbye journal, to whomever finds you next, may your journey for freedom be more fruitful than mine.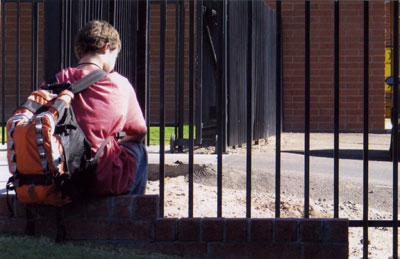 © Molly L., Phoenix, AZ