The Redheaded Girl and the Kindest Boy
June 17, 2018
They grew up together, maybe for the most important six years of their lives. Their parents, wise as they were then, put them in a private elementary school. She was awkward, and didn't care too much about her appearance. That would change later in her life, but as a kindergartener, she wasn't much for clothes. Her hair was fiery, but cut short to resemble the pixies in the many books she read by the fireplace. It was tamed by two multi colored barrettes that usually ended up in a pocket by the end of the day, discarded from annoyance. But he was different. They were both social, but he was part of the biggest friend group in the class. If forced to pick a "popular" group out of 18 people, he was it. He was funny, and smart, but kind too. He never bought into the hazing or the teasing that occasionally took place. In fact, he was the one that defended others, sometimes against his own friends. But he was friends with everybody, there was never a cold moment with him, because it just wasn't in his blood.
This girl, and this boy, they weren't in the same friend group. They didn't eat lunch together, they didn't seek each other out to be in their group. But in kindergarten and first grade, they ran together in the class and recess games. When they found their shared love for medieval stories, they roleplayed together on the playground. They learned to play tetherball together, which resulted in the some very heated competition (she always won, however). As they grew bigger, so did the elementary school gender barrier. Their conversations became more and more distant. Briefly their companionship was renewed when they were on the same track team, but she was soon diagnosed with exercise induced asthma, and made the choice to stop running track. His infectious smile and shoulder length blonde hair still filled her vision every day however. He never stopped smiling at her, laughing with her, and picking her up when she was down. She cherished the friendship, but was baffled by it. Why would he talk to her, she would think. Why would he pay any attention to the redhead in the corner? But she never pushed him away. She absorbed every moment they spent together, and talked to him whenever possible. Everyone in that class were good friends, but she didn't trust people easily. She had been hurt too many times for that. But she trusted him. Maybe it was because he had never hurt her. Or maybe it was because she knew he never could.
Years passed as they turned nine, ten, eleven. Graduation reared its bittersweet head, and she became numb. Numb to the fact that they would all take different paths, and she would soon be separated from the people she knew best in the world. But she never cried. Instead, she kept herself busy by the talent show, by schoolwork, by sports, and by running for school office. She ran for class vice president with a friend. He ran as well, but she ended up winning. She was half of the first female team to win class office. After they announced the winner, she spoke her acceptance speech beautifully and turned to see him visibly upset from the loss. That moment, that one moment, was when she realized he really was different from the rest of them.

But, as all things must do, that bubble that surrounded the two popped. They parted ways, each forging their own path. Her personality remained similar, though she grew more mature and changed her name. He cut his hair, and joined the group at his school that thought themselves superior. And they grew.
In their last year at the schools they chose, she started to think once again about her previous life. How they were all as close as family, and how she missed the closeness that she once had. So she did something about it. An email that had sat in the draft pile for months was pulled from the abyss, and she added to the list of her oldest friend's emails. Her old best friends were at the top, but others followed close behind. A beautifully awkward message followed, explaining that she wanted to know what high schools they were going to and how they were doing in general. She even mentioned him by name in the postscript, mentioning that she didn't mind what she was called, even if it was a stupid nickname.
But he never responded. And they grew still further apart. The rest of their story is uncertain, but it is possible they will never speak like they used to, love like they used to, or be like they used to.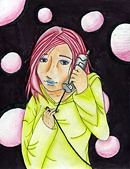 © Emily M., Milford, CT