I Love You
April 17, 2009
People have always wondered why I am the way I am. My mother has worried about me but I won't tell her anything. People think I need help, but I'm just very quiet. Is that a crime? Brian thinks I just need some to talk to, expectably after the incident. People just don't get that even if they want to help, I don't want their help. I want to be alone. I'm not depressed or suicidal, I just want to be alone and deal with it myself. I am normal.

"Anna Marie Smith! Are you even listening to me! Oh my god you can't even concentrate on a 5 minute conversation!" my mother yelled at me and turned a round just to storm out the kitchen. Ring! Ring! Riiing!

"Hello?" I said answering the phone. The phone felt cold and empty on my ear.

"Hello? An? Is that you? I can't hear you!" Brian started talking on the other end of the phone, "Are you okay? I heard about your father. Do want me to come and get you? We could go over to the creek and watch the sky's like we used to."

"Yea, Brian. I would love that. When will you be over?" I knew I sounded overly excited and fake but I didn't care.

"How about 10 minutes?" Brian said but I could tell he saw through the mirage I was putting up.

"Okay, that's wonderful. See you then." I hung up the phone grateful to be getting out of the house and being able to drop my façade. "Mom!" I yelled up the stairs "Brian is taking me out to dinner and a move, so I won't be home till around," I looked at the clock, it said 9:34 pm "1 tonight. Okay?" I ran up the stair to get dressed.

"Yea, it would be nice for you to get out of the house for a little bit," she said sounding like she had been crying.

"Annie can you play a game with me?" my little sister, Katie, called. She is 12 years younger then me, how I live with a 6 year old is beyond me.

"Katie I can't, I'm going to go out with Brian so I have to get ready. I'll play with you tomorrow, okay? Do you want to help me pick out what to wear?" she got up groggily and looked up at me with desire. Her face looked pale but she other wise looked fine.

"Where are you going?" she asked so she could know what to pick out. She always picked out my outfits when I went out on a date.

"We are going to the creek, you now the one I took you to the other day. But you can't tell mom, I told her we where going to dinner and a movie, okay?" she shook her head feverishly.

"How about this?" she held up a pair of blue jeans, white sneakers, a cotton candy pink tank top and a light blue cashmere sweater.

"That's perfect!" I exclaimed and put it on just in time to hear Brian's car pull up him knock on the door, "Tell him I'll be down in like 2 minutes!" I ran into the bathroom and quickly put on my make-up. As I ran down the stairs I tripped on the last one and Brian caught me. "Thank you." I said blushing.

"Any time" he replied making me blush an even deeper red. "Let's go. Bye Katie, tell you mother I said hi." I walked out side with him and he opened my car door as he always does. He is such a gentleman. The drive was very quiet and when we got to the creek he said, "I love your outfit. Did Katie help you pick it out?"

"Of course! She is my personal wardrobe manager," he smiled, seeing me happy and laughing. The laugh sounded weird and it soon got caught in my throat. We climbed up our tree and sat on a low, strong branch and looked at the stars.

"Hey An, I think you should talk to some one," I looked at him with hurt on my face, "you need some one to talk to. I hate seeing you like this, I love you and I want you to be happy but, I'm sorry, if you don't get help soon, I'm either taking you to get help and if you still don't get it I'm breaking up with you." I looked in is eyes and saw that, that had been hard for him to say.

"Brian, I can't, I can't talk about it yet," I said as the tears started running down my face.

"An just talk to someone, it can be me or your mom, it doesn't have to be a shrink," Brian pleaded with me.

"I," I started to say something but I couldn't finish it. Brian pulled me so I leaned up against him and smoothed my hair as silent tars fell down my face. He kissed my hair and held his face their breathing in deeply. "I miss my dad," tears continued streaming down my face, "I miss him so much. The way he used to laugh, how he would smell when he came home from work, that smoky smell that only comes from working with burning wood." I choked up a laugh and grew silent.

"You don't need to answer just yet but how did you father die? I heard he died but no one would tell me how he died," Brian stopped talking afraid he said too much.

I took a deep breath and whispered, "He was shot, and the police told us he committed suicide but that's not like him. He was so happy, especially since mom told him she was pregnant again. Dad was too happy and too young to die." I stopped and looked at Brian. He kissed my forehead and looked at me like he wanted to do or say something but couldn't. He then kissed the bridge of my nose, the tip of my nose and finally my mouth. It was just a short one then harder and longer till the both us where breathing loudly and wanting more. I leaned into him as he let go of his support branch and we fell the very short distance to the ground. I landed on top of him as I heard the air rush out of him. Brian opened his eyes and looked up at me with love and admiration.

"I love you," he said as he kissed me and rolled over on to his side, he made sure that I lay carefully down beside him.

"I love you too," I said out of breath. My nerves where on end, the same as any other time he kissed me. I felt his head move as he laid it on my cheek; I turned my head to kiss it and tasted the salty taste of sweat. We laid there for what seemed like for ever and watched each other and the stars shift positions. I fell asleep in his arms just like I had on a many of nights just like that one night.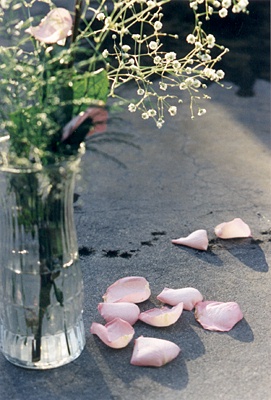 © Mary A., Fullerton, CA